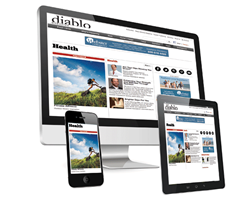 (PRWEB) December 31, 2014
Diablo Custom Publishing (DCP) announced today the release of its new mobile-friendly website publishing service, eMags. eMags is built on the HTML5 responsive platform, which allows websites to format to any screen size while maintaining text readability and graphic integrity. eMags intuitively adapts content for optimum viewing across all devices, including desktops, laptops, tablets and smartphones.
The new website platform allows for an enhanced desktop and mobile experience. Site visitors no longer have to worry about their Flash Player version or other third-party media players, as videos and audio play in a seamless fashion. Additionally, the new responsive site is multibrowser friendly and offer the ability for social share of all content.
eMags are responsive microsites that allow DCP clients to add dynamic content to their eMag website easily, without expensive programming or labor-intensive administration. eMags deliver the user experience you'd expect from high-end consumer magazines—engaging, dynamic content thoroughly integrated with your main Web, mobile and social media sites. Now, when DCP clients publish custom articles, videos or other content, it will be optimized for whatever devices their audience uses.
"Offering a responsive Web format for our clients allows a better user experience, and they can now reach mobile existing customers and prospects in a very engaging way on any device," states Barney Fonzi, Group Publisher for Diablo Publications. "DCP clients can now offer their printed magazine in an easy-to-read mobile format. Mobile isn't the future; it's here now, and DCP has embraced mobile technology."
ABOUT DIABLO CUSTOM PUBLISHING
Diablo Custom Publishing (DCP), the Bay Area's leading custom publisher, provides complete print, online and mobile custom publishing services to a diverse group of clients, including top-level organizations in the health care and higher education industries, as well as in arts and entertainment, sports, and technology. With over 30 years of experience and an award-winning creative team, DCP develops integrated marketing solutions that help companies communicate brand value, deepen customer loyalty and increase revenue.