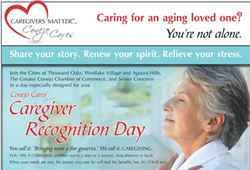 "1Heart Cares"
Thousand Oaks California (PRWEB) December 31, 2014
Caregivers Matter…Conejo Cares is hosted by the cities of Agoura Hills, Westlake Village and Thousand Oaks, The Greater Conejo Chamber of Commerce and Senior Concerns to celebrate Caregiver Recognition Day on January 31, 2015 at 10:00 a.m. at Los Robles Greens at 299 Moorpark road Thousand Oaks California. 1Heart Caregiver Services takes part in inviting family caregivers to this recognition day.
The recognition day aims to honor and celebrate family caregivers and provide them the opportunity to share their story, renew their spirit, relieve their stress and enjoy an uplifting and empowering program. The highlights of the event will be a 20-minute 'Unfrazzle meditation for stressed caregivers', dealing with 'the cards I've been dealt', find the funny in caregiving and author Terry Paulson's session on 'The optimism advantage in caregiving'.
Attendees will have the opportunity to add their loved one's picture to the community care circle and participate in a positive affirmation intention and group photo session. For the luncheon program, Thousand Oaks, Agoura Hills and Westlake Village Mayors will honor the caregivers. Family caregivers play a vital role in caring for our large and growing senior population and are instrumental in keeping elders out of institutions and in the community as articulated by Andrea Gallagher, President of Senior Concerns. Andrea added that caregiving can lead to health issues, such as depression and financial concerns so the organizers hope that the caregiver recognition day will help family caregivers realize that they are not alone and the entire community remains committed to help with the support and resources they need.
The event will have a program dedicated to recognizing businesses in the community that are demonstrating leadership by accommodating and recognizing caregivers. Nomination for a local business for the Conejo Cares Caregiver-friendly Workplace award is now open.
Family caregivers can now register by visiting website http://www.SeniorConcerns.org and click on 'Caregiver Recognition Day' button on top portion then click on reservations on left side of the webpage then click enter details button situated on the right side and fill in all the information needed. Attendees may also call Senior Concerns telephone number 805-497-0189 to register for free.
1Heart Caregiver Services http://www.1HeartCares.com is a member of The Greater Conejo Valley Chamber of Commerce and supports this Caregivers Matter…Conejo Cares recognition day, Conejo Senior Resource Network programs, Goebel Adult Community Center recreation programs and Thousand Oaks Council on Aging because 1Heart cares.
About 1Heart Group of Company headed by CEO Belina Tagarao:
1Heart Caregiver ServicesTM (1Heart CS) http://www.1Heartcares.com is a premier In-home care service company that provides professional private care duty to seniors and adults requiring assistance in their home and healthcare needs for the past 11 years. The company is run and managed by healthcare Executives with local and international training with combined top level executive work experience of more than 50 years. CEO Belina Tagarao is a Los Angeles IMAGE AWARDS honoree 2013 and HiFi 2014 Fil-American awardee as HiFi Ambassador of Goodwill within the Fil-American business community in Los Angeles. 1Heart CS is the only In-Home Care company that has its in-house 'Caregiver University' spearheaded by Training Director Randy Neil in Southern California area that provides professional caregiver training held at its Los Angeles head office aligned with its 'Continuing Professional Education' program implemented to all corporate managers and staff of the company and extended to senior living facility requiring in-service training for their staff. The Staffing department headed by Staffing Officer Jennifer Remigio, Charlotte Baseleres and associate Bernadette Manahan takes charge of staffing solutions to all cases, hiring, payroll and screening of all applicants and update of caregivers, CNA and HHA data base that can readily be assigned to new and existing cases handled by Client and Care Managers Arnold Navarro, Anne Capili, Shirley Billedo and Andrei Peralta assigned in each target County. The company Vice-President of Operations Kevin Tagarao has consolidated the company's daily operations, established online web presence and facilitated integration of new technologies. The company carries out a 'Circle of Care' process that is uniquely implemented by all 1Heart Managers and remains unmatched by any senior care service company. 1Heart CS is a Certified Member of CAHSAH, California Association for Health Services at Home, Los Angeles Chamber of Commerce, Conejo Valley Chamber of Commerce, BBB and operates in Los Angeles County, Orange County, Ventura County, San Fernando Valley, San Bernardino County and Santa Barbara County area. For a case evaluation, call #213-351-9100 #805-338-8100, #310-779-6254, #818-561-6641 and #562-412-2420 for an agreed schedule of appointment. For caregiver applicants with minimum of 2 years work experience, look for Jennifer Remigio to process the application with the submission of live scan finger print, SS card, CA Driver's license, CPR / First aid certification and TB test results. 1Heart Caregiver Services is now officially declared as a Master Franchisor having received the California state registration legally allowing 1Heart to offer franchise to different business group all over USA.
L.A. Jobs Employment Agency
The leading career and visa specialist in Los Angeles for foreign professionals. L.A. Jobs, http://www.lajobsea.com provides more opportunities for international workers who are highly qualified professionals and competitive to be able to build their career in the U.S. The company had successfully placed hundreds of applicants in the past few years even during the period of recession and it had attained a high approval rate of H-1B work petitions and green card of applicants enabling them to take the path to citizenship through employment and live the American dream. The company aims to be the premier leader in the employment industry in the U.S. Visit for no charge consultation and look for Mari Reola, HR Manager and Pam Sison, Legal and Marketing Specialist or call at #213-351-9100.
Summit Medical Billing
A fast growing Medical Billing company that helps physicians and other medical and healthcare companies obtain payment from insurance carriers and patients by effectively handling insurance claims and aid them to manage their practice and finance side efficiently. Summit Medical Billing with its staff Arielle, Pauline and Christina aims to establish a strong alliance with the American Medical Association and continue to provide help to their members increase their revenue with the efficient handling by the company's billing expert.