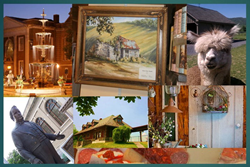 According to the data of Pricewaterhouse Coopers, over 50% of Americans are giving gift cards for the holiday. So, as pine needles are being swept up, and the January sales are kicking off, gather up those holiday gift cards and bring them to Franklin Cou
Franklin County PA (PRWEB) December 31, 2014
More and more Americans are remembering friends and loved ones with Visa, MasterCard and American Express gift cards. According to the data of Pricewaterhouse Coopers, over 50% of Americans are giving gift cards for the holiday. In fact, estimates of last year's card-gifting totaled nearly $118 billion. So, as pine needles are being swept up, and the January sales are kicking off, gather up those holiday gift cards and bring them to Franklin County for a day of amazing shopping.
Historic and beautiful, Chambersburg is the seat of justice for Franklin County. Settled in 1734 by Scots-Irish immigrant Benjamin Chambers, Chambersburg has long been known for its excellent location. Majestic Memorial Fountain marks downtown Chambersburg at the historic crossroads of Route 30 and Route 11. Raided, invaded, and devastated by Confederate firing of the town in 1864, the fountain is a memorial to Civil War soldiers and all Franklin County veterans.
Downtown Chambersburg offers unique gift and clothing shops, includes a winery, two chocolatiers, and a bierstube. A long-standing favorite in downtown Chambersburg is Northwood Books, 59 South Main. It is a unique gift shop with more than 8 miles of new and used books in 70 categories and also displays an array of local art. A more recent addition to downtown is the Norwegian Codfather, 81 North Main Street. It is a tasty one, too, pairing German, Scandinavian, and Italian, British, Irish and Eastern European flavors. From olive oil to cheese, salmon and sausages, it is like taking an Old World tasting tour.
Old-fashioned charm and friendliness describe Greencastle perfectly. Located near the Maryland state line along the I-81 corridor, Greencastle was founded in 1782 by John Allison, a personal friend of George Washington. First came the Baltimore turnpike and then the Cumberland Valley Railroad passed through town. Today visitors can glimpse vestiges of the era at the old passenger station along the highline at West Baltimore and Jefferson Streets.
One of Greencastle's popular shopping and antiquing spots is Crown Vetch Cottage, 27 South Carlisle Street. Browsing the displays is like stepping into the pages of House Beautiful. Antiques, collectibles, and repurposed furniture come together in fresh combinations of old and new. Another shopping and antiquing treasure is The Shop on Baltimore Street, where beautiful, old furniture takes on a fresh, new life. To visit The Shop is to appreciate the beauty of fine furniture.
Downtown Mercersburg is a lovely, old town with a mix of 18th and 19th century architecture. It is like stepping into colonial America. As the boyhood home of fifteenth president James Buchanan, Mercersburg offers rich frontier, Underground Railroad, and Civil War history. Settled by James Black, a Scots-Irish immigrant, in 1730, the town was originally called Black's Town. Take the historic walking tour of downtown, enjoy the wonderful early American architecture, and listen for the lovely 50-bell carillon of the Mercersburg Academy Chapel, and be certain to visit Pachallina, 13 South Main Street. Pachallina means clothing in the language of the Incas, an early civilization that placed a high value on alpacas. Find eco-friendly clothing throughout the store. Pachallina also has alpaca yarn made from the fleece of the furry fellows at nearby Long Acres Alpaca Farm. Alpaca fiber provides warmth in winter and allows the skin to breathe in warmer weather. Another must-see in Mercersburg is Carol & Company, 15 North Main Street, newly relocated from Hagerstown, MD to the historic James Buchanan Hotel. Carol & Company has so much variety—everything from handbags and jewelry to linens and lamps, gifts for babies, and fragrant soaps, candles, and lotions.
The Franklin County Visitors Bureau invites all to explore Franklin County PA and enjoy the shopping, history, arts, recreation, natural beauty, fresh foods and warm hospitality of communities like Chambersburg, Greencastle, Mercersburg, Shippensburg, and Waynesboro. Franklin County PA is located just north of the Mason Dixon Line and an easy drive to Washington DC, Philadelphia, and Pittsburgh. Discover more....plan your visit at ExploreFranklinCountyPA.com or by contacting 866.646.8060.