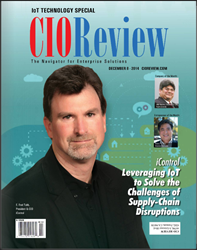 Our security/privacy first mantra kept us focused where others failed, building the platform ground up allowed us to create the efficiencies and scalability necessary for IoT.- Michael Holdmann, CMO
San Jose, CA (PRWEB) January 07, 2015
Coversant, Inc., the company that BLOWS AWAY barriers to IoT adoption, and a leading developer of IoT platform technology, has been named by CIO Review Magazine as one of the "50 Most Promising Internet of Things (IoT) Companies 2014."
The annual list of companies is selected by a panel of experts and members of CIO Review's editorial board to recognize and promote technology entrepreneurship. "Coversant has been on our radar for some time now for stirring a revolution in the IoT space, and we are happy to showcase them this year due to their continuing excellence in delivering top-notch technology-driven solutions," said Harvi Sachar, Publisher and Founder, CIO Review. "Coversant continued to break new ground within the past year benefiting its customers around the globe, and we're excited to have them featured on our top companies list."
Coversant, Inc., an Intel® IoT Platform ecosystem provider for M2M Cloud Software, believes the Internet of Things (IoT) is at the heart of a powerful technology mega trend, and takes the communication of devices from Machine to Machine, through the internet, so this rich information can be shared in order to help people and enterprises live better, grow and thrive.
That said, challenges exist. Currently, 85% of devices are not designed to connect to the Internet, and securing the billions of things and devices already connected—and the massive amounts of data they generate—are barriers to adoption for many enterprises across many industries.
Coversant's vision, is to completely BLOW AWAY the barriers to IoT adoption in order to allow enterprises to reach their full potential. Coversant does this through its proprietary IoT platform that brokers information between devices and systems across the internet, in a secure and managed way.
At its core, Coversant crushes barriers to IoT adoption by delivering these 5 key features

Security: Tightly integrating hardware and software security from the edge to the cloud, along with data protection and policy management, delivers trusted data to applications that deliver value
Interoperability: Modular, standardized technologies seamlessly communicate to one another, accelerating time to market and reducing the cost of deploying and maintaining IoT solutions
Scalability: Industry-leading technology across the IoT infrastructure deliver scalable computing from edge to cloud
Manageability: Device, security, and advanced data management provide end users with the capabilities to manage and deploy large-scale IoT systems
Analytics: Delivering trusted data and enabling real-time insights
"With such a variety of "Connected Things" for different purposes, customers came to us indicating a need to uniformly manage, secure and organize "things" under one unified interface" said Michael Holdmann, Chief Marketing Officer, and Coversant. He further indicated that their mission was to "build a platform capable of scaling to the needs of the billions of devices projected to be communicating with systems, applications, and humans, securely, privately and efficiently over the internet." In other words, his company's mission is to "obliterate" every possible obstacle to adopting and embracing the IoT as a way to support customers better, improve quality of life, improve quality of patient care and basically drive business faster in a secure and managed way.
And "securely" isn't an afterthought for Coversant, certified by Defense Information Systems Agency (DISA) after passing rigorous testing because of their security and interoperability and mandated by the US DoD, Coversant, Inc. is one of the most secure technologies in the infrastructure of the IoT.
Their patent pending event driven fabric capabilities allows devices, applications and humans on any platform using any protocol from any provider to come in and out of relationships dynamically as profiles match events that need attention; as the event is satisfied the relationship is then dissolved until necessary again delivering the true real-time needs of IoT, ACTION.
"As CES 2015 opens its doors for companies exhibiting their newest "Things" to make business and consumer life more efficient, the need for secure, private and fully autonomous communication, monitoring and control becomes even more important as is evidenced in the continuous stories of hackers taking over systems." Holdmann says. That is Coversant, a platform for organizations to manage simplified deployment, access and security from edge to cloud with full authorization of data access in the hands of the device owner.
About CIO Review
CIO Review constantly endeavors to identify "The Best" in a variety of areas important to tech business. Through nominations and consultations with industry leaders, our editors choose the best in different domains. The IoT special is an annual listing comprising the 50 Most Promising IoT Companies in the U.S.
About Coversant, Inc.
Coversant, Inc.'s core is the Internet of Things. The mission from inception, to build a platform capable of scaling to the needs of the billions of devices projected to be communicating with systems, applications and humans securely, privately and efficiently over the internet. With backgrounds in Telecom, Internet, SaaS, Embedded and Protocol space, the leadership at Coversant experienced in deployment of very large networks that consist of 10's of millions of devices for building automation and device management; satellite communication/navigation; global SaaS offerings to name a few has been involved in creation of or driven innovation in each.