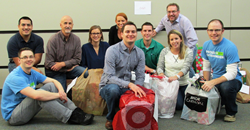 A highlight of this year's drive was a team from Nationwide who volunteered an afternoon to wrap gifts for more than 300 kids.
Des Moines, IA (PRWEB) January 02, 2015
Orchard Place, mental health experts for Iowa's children, with the help of a record number of donations, filled the wish lists of 505 kids this year. The annual gift drive supports children who are served by Orchard Place divisions including the Campus, Child Guidance Center, Integrated Health Program and PACE.
"Families of the recipients did not have the resources to provide gifts," said Megan Ronnenberg, Volunteer Director at Orchard Place. "For a many of the kids, these were the only gifts they received during the holiday season."
Sixty-four individuals shopped for 140 children, who provided a wish list of three items. A large majority of items requested were coats, clothing, winter hats and gloves. Orchard Place personnel worked with the children to identify priorities for their gift lists.
Group buyers this year included teams from: Principal, Nationwide, EMC, Submittal Exchange, Goals in Motion, Meredith, Holmes Murphy and FunnelWise.
Campus holiday party sponsors who purchased gifts and hosted a holiday dinner for children included: Kuder Inc., John Deere, Wells Fargo, Marsh, Principal, AmeriCorps, The Orchard Place Operating and Foundation Boards and the Meyvn Group.
"Orchard Place is also extremely grateful for a $5,000 gift from John and Mary Pappajohn," added Ronnenberg. "Without cash gifts from the Pappajohn's and others, we would not have been able to fulfill the wish lists this year."
A highlight of this year's drive was a team from Nationwide who volunteered an afternoon to wrap gifts for more than 300 kids.
Popular items on lists other than clothes included Legos, toys from the movie Frozen and even gift cards for supplies for children's pets.
"Once again our individual and corporate donors came through for children served by Orchard Place," added Ronnenberg. "It's really a sight to see so many children excited to receive gifts that in most instances are truly needed. It's amazing how thrilled several of our kids got after receiving new clothes. You would be surprised at how a new pair of white socks can make a child beam with excitement, especially if they have never had a new pair of socks."
Also noted this year was the number of individuals who shopped for more than one child. In several cases, people fulfilled the gift lists of 10 to 12 children.
For more information about giving to Orchard Place for our various fundraising drives throughout the year, visit http://www.orchardplace.org/donate or call the Orchard Place Foundation at 515-287-9610.
About Orchard Place:
Orchard Place is the oldest locally-based charity in Des Moines providing mental health treatment and expertise serving Iowa's kids. Our inpatient, outpatient and community program serves nearly 10,000 children from birth to age 22 annually. Four operating divisions work under the Orchard Place umbrella of services: Child Guidance Center, Orchard Place Campus, PACE Juvenile Center and the Integrated Health Program. More information can be found at http://www.orchardplace.org