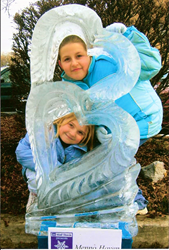 Icefest started in 2002 and has grown to be the second-largest ice festival in Pennsylvania.
Chambersburg PA (PRWEB) December 31, 2014
IceFest 2015 is just around the corner, scheduled for January 29 to February 1 in Chambersburg, PA. Icefest started in 2002 and, in thirteen years, has grown to be the second-largest ice festival in Pennsylvania.
Live ice carving of giant sculptures highlights Thursday and Friday evening, January 29-30. Over 70 sculptures—small and large—are planned for IceFest 2015. Enjoy the Snow Fall Ball on Friday, January 30 at Central Presbyterian Church on Memorial Square. Dancers of all skills are invited to attend in gowns, period costumes, or casual wear. Learn to dance the foxtrot and then enjoy an array of ballroom dancing. Admission is $10.
The Chili Cook Off returns on Saturday. Let's see if any chili cookers can make hotter chili than Dr. Paul Orange. His chili delivers pure heat....butter bread is highly recommended. The 40-ft.double ice slide is returning along with lights to highlight the beauty of the carvings. World class cake decorators will be competing in Icing on the Cake at the Capitol Theater on Saturday, January 31. This year's cake-decorating theme is favorite TV sitcom or reality TV show. The winner will be announced at 6:30 PM when all the yummy cake is offered to visitors to enjoy....as long as it lasts.
New this year is Frozen: A Movie Event at the Capitol Theater on Sunday, February 1, featuring a 2 PM showing of Disney's Frozen. Fun starts at 1 PM with magic tricks and snowflake-making. Admission, is just $5 and children two and under are free.
Come celebrate the beauty of ice at IceFest 2015 in downtown Chambersburg—one of the many beautiful communities due north in Franklin County, PA.
IceFest in downtown Chambersburg is winter elegance in Franklin County. The Franklin County Visitors Bureau invites all to explore Franklin County, PA and enjoy the history, arts, recreation, natural beauty, fresh foods and warm hospitality of communities like Chambersburg, Greencastle, Mercersburg, Shippensburg, and Waynesboro. Franklin County, PA is located just north of the Mason Dixon Line and an easy drive to Washington DC, Philadelphia, and Pittsburgh. Discover more....plan your visit at ExploreFranklinCountyPA.com or by contacting 866.646.8060.