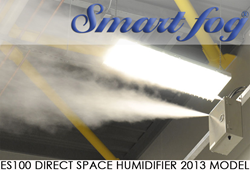 Non-wetting Commercial Humidifiers No Condensation
Reno, NV (PRWEB) December 31, 2014
Smart Fog announced this week the release of a new revolutionary technology to enable facility manager maintain precise relative humidity in any environment without condensation. The new feature is avalalble for both the direct space ES100 and HVAC in duct TS100 commercial humidifiers.
The key disadvantage to steam generated humidity (electric or gas) is a large differential between the target and the moisture in the air. This is a major shortfall of the steam technology because between the start and stop there is always a lag. This time lag creates an uneven humidity in the environment and creates condensation that leads to other major issues such as mold and pathogen buildup in the HVAC systems and ductwork. Smart Fog introduces millisecond control that enables the user to control a 1% differential even in extreme conditions. The 2015 models now shipping are equipped with new dew point control which allows the system to understand the exact temperature dynamics in the ductwork and operate at full efficiency without one drop of water compensating on the ductwork. This is a new revolutionary technology currently only offered by Smart Fog.
Smart Fog humidification systems are 100% efficient. Smart Fog system evaporate 100% of the water into the air. No drains or additional fans are required to operate the system.
Only maintenance required on a Smart Fog system is replacing the filter elements on the water, and air filters every two years. Smart Fog system is designed with solid-state components. Smart Fog systems do not have any parts that need serviced on a maintenance cycle other than the filter cartridges.
Smart Fog systems are engineered for simple and quick installation. The system operates on low pressure and utilizes flexible piping and push-to-connect fittings.
Smart Fog manufactures all components out of surgical grade stainless and FDA approved materials. The system automatically purifies water and air. Additionally the unique technology in the Smart Fog nozzle allows oxidization to occur to eliminate any contaminants to enter the targeted environment.
The droplets generated by the Smart Fog system effectively eliminate dust and static in the air. Smart Fog system components allow for ultra-pure water to be directly utilized without the concern for corrosion.
Smart Fog systems seamlessly integrate into new and existing building automation systems for control, data recording and monitoring.
About Smart Fog Inc:
In business since 1980, Smart Fog Inc. is the recognized world leader in the industrial and commercial humidification systems industry. And, all products are manufactured in the U.S. Smart Fog, The Humidification Experts, is a world leader in developing unique industrial and commercial humidifier systems to meet the individual needs of your environment.