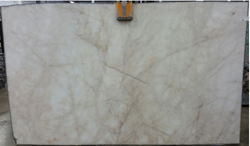 Brisbane, CA (PRWEB) December 31, 2014
Integrated Resources Group, the largest supplier of natural stone in the San Francisco Bay Area recently received a new shipment of quartzite from Brazil. This beautiful and pristine stone is translucent with the look of small crystals embedded in it.
Among the types of new quartzite stone are Princess White and White Diamond, in polished and satin finishes. White Diamond comes in both polished and satin finishes. Photos of the beautiful stone can be found on IRG's website at http://marblecompany.com/pro_cat/quartzite/
Quartzite is a very hard and non-porous metamorphic rock that has a high resistance to chemical weathering. Originally sandstone, it is converted to quartzite through heat and pressure, resulting in a beautiful mosaic of quartz crystals. Quartzite is perfect for a variety of uses in both commercial and residential construction. The stone looks spectacular when used in bathrooms, kitchens, or when back-lit.
For more information, contact IRG by calling 415-657-0280 for Brisbane or 925-829-1133 for Dublin or stop by the Brisbane showroom at 275 Valley Drive, Brisbane, CA 94005 or the Dublin showroom at 6800 Sierra Court, Suite A, Dublin, CA 94568.
About the Company:
Integrated Resources Group offers the largest selection of natural stone in the San Francisco Bay Area. The family-owned business started as a trading company in 1986 dealing in agricultural products, canned food, apparel and natural stone. With a growing reputation for its high-quality natural stone and excellent service, the company relocated the business to a vast warehouse and showroom in Brisbane, where they now carry more than 250 types of stone. The company opened a second showroom and warehouse in Dublin to service East Bay customers. Its products include natural stone, exotics, glass tile, engineered stone and more. For information on the products and services of Integrated Resources Group, the Bay Area's marble and granite company, call 415-657-0280, visit http://marblecompany.com/ or come into either of their two locations.