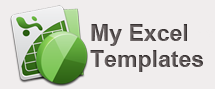 The program can do extensive math calculations, automated organization, and even create charts and graphs.
(PRWEB) December 31, 2014
It's no secret that productivity is the key to workplace success. As the new business quarter begins, employers are focused on achieving goals at faster rates while maintaining efficiency within the workplace. Microsoft's Excel program is an essential daily tool for any employee working with budgets, calendars, planners, and more.
Because of the surge of Excel usage, MyExcelTemplates has introduced an extensive line of Excel tutorials for beginners, intermediate users, and those seeking advanced Excel knowledge. The additions of multiple tutorials are available right now for download at no charge.
"Excel has so many features that people don't realize," said MyExcelTemplates spokesperson Ben Davidson. "The program can do extensive math calculations, automated organization, and even create charts and graphs."
Davidson went on to say that the value of the multiple Excel tutorials is their simplicity in being displayed as step-by-step guides. "Someone can start from the very first tutorial, and go all the way to the advanced lessons without getting lost in jargon."
Each tutorial comes with a downloadable example and a guide on how to manipulate the example to achieve the tutorial's lesson. In addition, the website offers hundreds of pre-made Excel templates for business, planners, calendars, and more.
"We have templates available for nearly every occasion," said Davidson. "But we wanted our users to also be able to create and change their Excel spreadsheets to fit their exact needs. Plus, the value of becoming an Excel power user in today's world is very useful."
Additionally, MyExcelTemplates has uploaded numerous 2015 Excel templates for users. Calendars, business calculators, and fitness trackers are among the additions to the site to help usher in the New Year's productivity.
"Our goal is to help more people become familiar with Excel's capabilities to help their personal and business life," said Davidson. "That's why we have all these templates and tutorials available at no cost and no need to sign up."
To view Excel tutorials and hundreds of Excel templates, visit MyExcelTemplates.