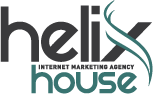 (PRWEB) December 31, 2014
Helix House, a respected name in Internet marketing and online advertising reports record success in helping clients increase revenue through better online marketing. More businesses than ever before are searching for innovative and effective ways of advertising. As such, they are discovering that Internet advertising and online marketing are the new standard in the industry. Long gone are the days of relying upon television, radio and newspaper to effectively advertise a brand. In fact, the landscape has changed significantly requiring that businesses large and small capture the opportunity to fully leverage the Internet to their best advantage. Gaining a significant return on investment when it comes to online advertising simply means working with the right Internet marketing firm.
Helix House has quickly grown to become the online advertising and Internet marketing agency of choice throughout Arizona and across the country. With a growing demand for this important service, more businesses than ever before are demanding quality and affordability in an Internet advertising agency. Helix House offers all this and more while providing clients with real-time reporting to ensure that businesses stay in the loop with regard to their online marketing activities. Dedicated account representatives offer businesses the rare opportunity to work specifically with one Internet marketing expert throughout the entire duration of their contract. This provides for improved results when it comes to a wide variety of Internet marketing campaigns.
In addition, those that choose to work with Helix House enjoy innovative tools as call tracking and heat maps. These important Internet marketing tools help businesses closely monitor the activity of visitors to their website. It also helps business owners to determine how effective a marketing campaign actually is over time. Saving businesses money while improving their online exposure is what Helix House has been doing for many years. Having helped thousands of clients achieve remarkable results in the online arena is one more reason that more people than ever before are choosing to work with Helix House for their Internet marketing needs.
Few other Internet marketing agencies offer the level of dedication and quality customer service that Helix House routinely makes available. With a long list of satisfied clients, repeat business and referral business as well as favorable online reviews, this is an Internet marketing agency that has quickly grown in popularity. Helping businesses gain the online exposure, top search engine ranking and visibility that they desire and expect is best achieved by working with the professionals of Helix House. From quality content creation to web development and link building, Helix House covers literally every aspect of Internet marketing and online advertising. This recent announcement with regard to record success in helping clients increase revenue through better online marketing is yet further confirmation that Helix House strives to deliver the absolute best in Internet marketing services for businesses in a wide variety of industries.
Helix House is a highly innovative forward-looking Internet marketing agency located in sunny Arizona and beautiful New Mexico. The company has consistently exceeded industry expectations to routinely rank highest among some the best Internet marketing companies in the country. Recognized as an industry leader, this Internet marketing firm has helped hundreds of businesses across the country to gain better online ranking, online exposure and overall recognition. Helix House outpaces the competition year after year by leveraging the latest Internet technology, ideas and concepts to deliver extraordinary results for businesses large and small.