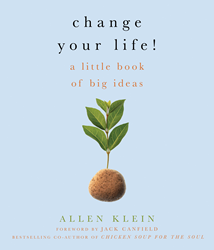 "I have come to know that sometimes to simplest words can make a major difference in how people perceive and interact with their world. This book can make that same difference to you." —Jack Canfield
(PRWEB) January 01, 2015
The world's only Jollytologist, Allen Klein is an award-winning inspirational speaker and author based in San Francisco. With a large following of people, Klein has inspired and uplifted many of his readers—including the legendary Jerry Lewis. He shared "Three things you need to do to have a fantastic new year" with Examiner.
"Things are the way they are. It is our reaction, how we see a situation that makes the difference. Start seeing your situations as "it's all good," and you will be on your way to a happier new year," Klein writes, with the suggestion to "Alter Your Attitude." He also includes inspirational quotes with each tip, such as this one from Shakti Gawain, "The most powerful thing you can do to change the world, is to change your own beliefs about the nature of life, people, reality, to something more positive."
Allen Klein, master of the right quote at the right moment, has gathered the most inspiring words of wisdom into one uplifting volume. Change Your Life! presents moving and meaningful sayings from sages all around the world that will rouse readers to live life to its fullest potential. Organized into chapters that take readers through all stages of life, these words will help them feel good about themselves and their life's purpose.