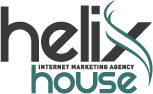 (PRWEB) December 31, 2014
Helix House, a top Internet marketing and advertising agency reports the implementation of heat maps and call tracking to improve online marketing campaigns. As one of the industries most well known and most respected Internet marketing agencies, Helix House provides businesses with the tools that they expect to succeed online. With a growing trend of business moving away from older forms of marketing such as newspapers and television, there is a demand for experienced and knowledgeable Internet marketing firms that offer a wide range of marketing and advertising services. Helix House is a marketing firm that specializes in online solutions and has been helping businesses throughout Arizona and across the country to achieve their online goals and objectives. Most importantly, the company offers online advertising services that deliver real and measurable results.
Voted year after year to be one of Arizona's best search engine optimization and social media management organizations, Helix House has gained the respect of the industry as well as clients in a wide variety of industries. Few other Internet marketing firms can compare when it comes to a dedication to client satisfaction. Friendly, knowledgeable and experienced Internet marketing professionals are always staying in tune with the latest industry advances as a way to help clients achieve better online exposure and visibility. Helix House has continued to grow year after year thanks to its careful implementation of a wide variety of cutting-edge marketing and advertising strategies.
Most impressive of all is the fact that prospective clients interested in working with Helix House can speak with current and existing clients of the company before making a decision. This is a transparent, upfront and honest way for prospective clients to get an accurate reading on what to expect from this industry leader in online advertising and marketing. Talking with existing and former clients is perhaps the best way to enjoy all that word-of-mouth advertising has to offer. Most importantly, Helix House makes this available to all prospective clients further adding to its impressive reputation. From proprietary link building services to social media strategies and traditional search engine optimization techniques, Helix House is an online marketing firm that focuses on personalized and customized marketing and advertising campaigns.
Helix House provides clients with real-time reporting with regard to each specific campaign. This enables businesses of all sizes to enjoy a more hands-on approach to their online marketing and advertising efforts. Keeping businesses in the loop when it comes to a particular campaign can make a big difference in how successful the campaign becomes. Helix House understands this simple fact and strives to ensure that clients enjoy constant feedback with regard to their online visibility and exposure efforts. This recent announcement with regard to the implementation of heat map and call tracking technology to improve online marketing campaigns is just one more way that Helix House stands out from the competition.
Helix House is a highly innovative forward-looking Internet marketing agency located in sunny Arizona and beautiful New Mexico. The company has consistently exceeded industry expectations to routinely rank highest among some the best Internet marketing companies in the country. Recognized as an industry leader, this Internet marketing firm has helped hundreds of businesses across the country to gain better online ranking, online exposure and overall recognition. Helix House outpaces the competition year after year by leveraging the latest Internet technology, ideas and concepts to deliver extraordinary results for businesses large and small.