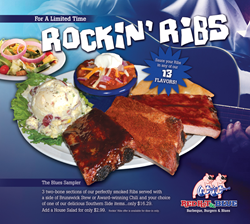 Winston-Salem, NC (PRWEB) December 31, 2014
Red Hot & Blue Restaurants are rockin' with a limited time rib special on Thursday, January 1, 2015 and continuing through Sunday, February 8, 2015.
The "Rockin' Ribs" Blues Sampler at Red Hot & Blue includes 3 fall-off-the-bone tender, hickory-smoked 2-bone ribs, a choice of Brunswick Stew or Award-winning Chili with a Southern Side for only $16.29.
Red Hot & Blue features 13 different barbecue sauces and rubs to compliment their naturally smoky ribs. Cooked low and slow for hours over hickory logs, the authentic St Louis-cut Memphis-style ribs are a signature item for the barbecue restaurant. Red Hot & Blue offers 5 long-time favorite sauces: Mojo Mild–a tasty and mild barbecue sauce; Sufferin' Sweet–a true Southern "suh-weet" sauce; Hoochie Coochie Hot–really hot, and we mean HOT barbeque sauce; Double Trouble–a savory blend of hot and sweet; and Hard Luck Vinegar–an authentic tangy Eastern Carolina vinegar-based sauce. Also popular is the Red Hot & Blue Original Memphis Dry Rub– a proprietary mix of seasonings and spices that emphasize the smoky flavor of the meat.
The Red Hot & Blue Barbecue sauce and rub offerings expanded in 2013 to include 6 new flavors. One of the brand's newest branded sauces introduced–Big Mama's Mustard–is a full-flavor mustard base barbecue sauce. Several more new flavors round out the selection making it oh-so-difficult to make a decision: Sweet Red Chili Sauce; Buffalo Barbecue Sauce; Bourbon Molasses Sauce; Lemon Pepper Spice Rub and Garlic Pepper Spice Rub. Red Hot & Blue Barbecue Sauces are available for sale in each restaurant and online at: http://www.redhotandblue.com/shop
The moment you walk into a Red Hot & Blue restaurant you are surrounded by an aroma of the authentic Memphis-style hickory-smoked meats, which have been cooking for hours, and the air is filled in classic and contemporary Blues music– all delivered with a large dose of Southern hospitality. The name, "Red Hot & Blue" is taken from the title of D.J. Dewey Phillip's radio show that that aired on WHBQ-AM in Memphis, Tennessee in the 1950's. This radio show launched the careers of Elvis Presley, Jerry Lee Lewis and Johnny Cash and broadened the audience for artists such as BB King, Muddy Waters, Robert Cray and Rufus Thomas.
The Red Hot & Blue limited time "Rockin' Ribs" Blues Sampler is sure to get things rockin' in 2015! And just in time for the football play-off season, Red Hot & Blue restaurants across the country will also be offering a "Game Day Special" on 50, 100 and 200 slow-hickory-smoked Chicken Wings available in any of the 13 sauce and rub flavors. Check their website for more information: http://www.redhotandblue.com.
Participating Red Hot & Blue Locations:
MARYLAND: Annapolis; Gaithersburg; Laurel; Waldorf
MISSOURI: Joplin
NEW JERSEY: Cherry Hill
NORTH CAROLINA: Raleigh; Winston-Salem
TEXAS: Dallas; Flower Mound; Fort Worth; Irving/Las Colinas; North Richland Hills; Plano
VIRGINIA: Fairfax; Herndon; Kingstowne; Leesburg; Manassas; Warrenton, Williamsburg
MORE INFORMATION
About Red Hot & Blue Restaurants, Incorporated:
Red Hot & Blue Restaurants, Inc. was named in the top 3 "Best Barbecue Chains in America" according to The Daily Meal article originally published on March 5, 2014. Editor Dan Myers sifted through regional preferences to funnel the most popular chains in his list of 10 Best Barbecue chains in America. Criteria for selection was based on: "local renown, consistency of food across all the locations, adherence to traditional barbecue techniques like "low and slow" on-premise smoking, atmosphere and most importantly, if the food tastes good." The full article may found online at: http://www.thedailymeal.com/10-best-barbecue-chains-america/3414
The original Red Hot & Blue Restaurant was founded in 1988 by a group of true Southerners (including three politicians from Tennessee) and a transplanted "Yankee" who could not find authentic slow-smoked Memphis-style barbeque to their liking in the Nation's Capital. Since its start, the Red Hot & Blue concept has found a home with multiple locations in six different states: Maryland, Missouri, New Jersey, North Carolina, Texas, and Virginia. The Red Hot & Blue mission is to "serve only the best quality authentic Memphis-style Barbeque in a fun, casual atmosphere surrounded by blues music and memorabilia." Red Hot & Blue's premier catering services have been serving up Southern Hospitality for over 25 years at events from birthday, anniversary, baby showers or graduation gatherings, corporate meetings and presentations, retirement parties and family reunions to casual or formal weddings and large banquets. The Red Hot & Blue catering team can accommodate any type occasion from 20 to 10,000 attendees with customized menus to fit event plans and budget. For more information, visit http://www.redhotandblue.com
###
For additional information or franchise opportunities, contact: Randy McCann, President, Red Hot & Blue Restaurants, Inc., 154 Charlois Boulevard, Winston-Salem, North Carolina, 27103. Phone: 336-714-1515.