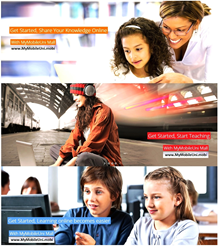 Education is the passport to the future, for tomorrow belongs to those who prepare for it today.
Washington D.C. USA (PRWEB) December 31, 2014
LTT Global, an award winning mobile and web based learning company, has been pioneering mobile learning with a vision to make learning fun, accessible and affordable for all since 2004.
Wemel Cumavoo, co-founder and CEO at MyMobileUniversity, said, MyMobileUniversity is a global initiative to impact lives through innovative learning technologies, enabling learning for all as it is a one-stop learning center catering for all learning needs. Users have access to thousands of digital resources as different people have different learning styles.
With new edutainment channels covering movies, music, comics and celebrity news, MyMobileUniversity affords the learner the opportunity for them to explore learning in an entertainment way. Learning using these resources is proven way to develop language skills, expand vocabulary, and spark creativity and imagination.
In addition to providing edutainment channels to improve listening and comprehension skills, learners of English have access to language slang/phrases. Access using a dictionary button in the movies and music channels will assist learners in understanding the content.
A learner is able to access thousands of digital resources from our 20+ channels in the form of courses, e-books video, etc, via Universities and College programs; Entrepreneur and Business Programs; Computer Science and IT Programs inclusive of Mobile App Development Programs; Professional Courses, Global Health and Medicine; Programs for Teachers; Programs for Teens and Children; Worldwide Radio and News; Video Talks and Lectures; Life Skills and Lifestyle Programs covering Motivation, Music, Art and Hobbies. Today one is able to learn from anywhere at any time, said Dr. Lawrence Wasserman, Vice President of Strategic Alliance at MyMobileUniversity.
LTT Global invites learners, individuals and organizations passionate about education for all to contact MyMobileUniversity to be Goodwill Ambassador. Let's work together and impact lives globally through education.
MyMobileUniversity services are accessed by signing up online or by downloading the MyMobileUni mobile application for the iPad, iPhone or Android device for unlimited usage of the site's offerings.
For more information please email to founders(at)MyMobileUni(dot)com
For More Information Please Contact:
Corporate HQ
Rani Wemel,
Co-Founder/COO
Email: founders(at)MyMobileUni(dot)com
Dr Lawrence Wasserman,
Vice President, Strategic Alliances
dr.lawrence(at)MobileUni(dot)com | wfuture(at)hotmail(dot)com
Tel (O): +1 301.424.1383 | Fax: +1 301.424 1383
http://www.LTTCOM.com |http://www.MyMobileUni.com
Cell +1 240.462.3471 | Skype: galaxy139 |Twitter: FORTECH139