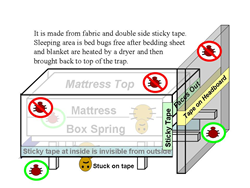 Princeton Jct, NJ (PRWEB) January 02, 2015
Scientists developed dish-sized traps with attractive chemical or CO2 bait. This effort does not stop bites because most bed bugs feed on human blood and lay eggs fast. Bed Sized Bed Bug Trap LLC at Princeton Jct, New Jersey invented a special fabric trap which converts the entire bed into a trap with sleepers on top of the trap as inaccessible CO2 bait. Sleepers don't feel any difference comparing to a normal bed. More than 99% of the blood feeding chance is at night, which is eliminated by a one-time easy job. This invention revolutionizes the methods. It is difficult for people to search and kill bed bugs without missing a single one. It is easy for every bed bug to find the sleeper and kill itself on the way for food by trapping or starving. Bed Sized Bed Bug Trap LLC founder Dahai Dong said that his house was infested with bed bugs, and he is the first to immediately solve the problem by the easy method. Killing bed bugs by bed sized trap can be more efficient than killing ants by poison bait. It is not only easy to kill every bed bug without survivors, but is also not important when the last one starves due to no more bites and negligible daily effort. In other words, you immediately solve the problem after one-time easy job by yourself. The following concepts or common senses are essential to understand how easy to get rid of bed bugs.
1) People believe that bed bugs fall from ceiling to bed; it is impossible after slippery Scotch tape is applied on ceiling.
2) People feel difficult to kill bed bugs in bedding materials including blanket and sheet; it is an easy job to keep sleeping area bed bugs free by heating all of bedding materials in a dryer and then bringing them back to top of bed sized trap.
3) People feel difficult to kill bed bugs inside mattress and purchase mattress encasement; it does not matter how many bed bugs are inside mattress because bed bugs will either trapping or starving after you use bed sized trap. Most people can make right decision whether mattress encasement and box spring encasement are needed if bite is impossible.
4) People believe that heating the entire room is the most expensive and most reliable; it fails if bed bugs migrate from other apartments or hide in electronics which can't be heated, while a cheap bed sized trap succeeds even in these special cases.
5) People believe the one year life without food; you will find truth after you catch bed bugs into a glass jar without cap and watch them feel CO2 and crawl every night without dormant until starve in weeks at room temperature.
6) People feel difficult to stop bites at day time; exterminators don't feel difficult to stop bite during service, neither do you.
7) People feel that vacuum, steam, chemical, DE, and mattress encasement are essential DIY methods; none of these are needed because stopping bites forever is a hundred times easier than killing all of the bed bugs without missing a single one.
8) Sleeping on top of the bed sized trap, you don't care how many bed bugs are behind wall, under floor, and inside closet because they can't bite and they work every night towards trapping or starving. Don't suffer endless cycles of killing at day time, feeding at night, and letting each survived one lay up to 300 eggs.
9) Traditional methods fail if you miss a few of bed bugs. The trap method succeeds even every bug is very smart and it does not trap any bugs. The trapping rate does not effect when the last bed bug starves.
For more information on how to immediately solve bed bug problem after receiving the right product, please visit http://www.bedsizedbedbugtrap.com.