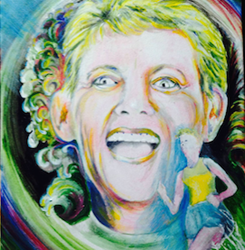 "First human to run 300 miles without a wink of sleep"
Cupertino, CA (PRWEB) January 03, 2015
Pam Reed is an ultrarunning legend and the first person to complete a 300-mile run without sleep in 2005, breaking Dean Karnazes's then-record of 262 miles. She completed the run in slightly less than eighty hours (read more).
Artist Sujata Tibrewala has herself taken into running recently and has done three half marathons. She was motivated by some of her friends who were doing a half marathon supporting charities benefitting India. She registered for a 5k thinking she could walk it if not run, and before she knew it she was running a 10k. This was unbelievable to her, because a few years ago, she was bed ridden after being diagnosed with fibromyalgia.
But there she was running, all thanks to her art, yoga and vegan diet, all working together in tandem to literally lift her spirits up. And then one fine day, she found herself arguing about physical strength of women. She believed that women were better at long distance running and ultra running, so she scouted the Internet for sportswomen who had overcome men in sports. And, sure enough, she stumbled upon Pam Reed, the first "human" to run 300 miles without sleep.
She could not believe that Pam Reed was the "First Human," not "first female"? For example first human to the space was a "man" (Yuri Gagarin: 1961 ) , followed by "the woman" (Valentina Vladimirovna Tereshkova :1963 ). In sports there is a "men's" world record and there is a "women's" world record (ref athletics world records). But here the "first human" to accomplish a feat was a woman, and she also won many ultra marathons beating men and holds many world records to.
And hence Tibrewala is dedicating a whole series to such women who were the "first" people or unique in some other way, but never found their place in the mass culture. This series is her tribute to the countless women who have come before us, to make this world a better place.
Needless to say, some of the first pieces of the series will be shown at "Life Force Arts" Chicago, under "The Human Spirit" exhibit, because females are humans too !!!