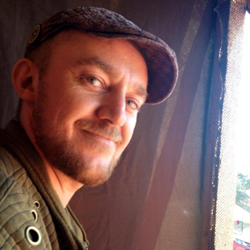 Boulder, Colorado (PRWEB) January 06, 2015
Heart of the Shamans was conceived as a sonic prayer, a lovingly-crafted ritual transport into the heart of the universe. Its original arrangements by producer Amani Friend – aka Liquid Bloom -- are skillfully interwoven with threads of global rhythms, sounds of natural atmospheres and evocative vocals. This music is designed to support ceremonial trance states of awakening, weaving powerful voices and instrumentation from around the world into a layered, multi-dimensional sonic tapestry resonant with ancient lineages and ancestral depths. The music draws inspiration from such diverse sources as the indigenous ceremonial dances of New Mexico's deserts and pueblos, to sacred traditional ayahuasca invocations from Amazonian rainforest cultures.
This album's ceremonial medicine songs are intended for both healing and trance journeying, to illuminate the listener's perception of the self as one with all creation. A characteristic of trance music is that we embody something with the unknown. Opening to the curative powers of music can elicit deep, quiescent states of meditation and increase creative potential. When it generates a true trance state, music is interactive, passionate and profoundly joyful as the soul's medicine dissolves our sense of separation. Like silent meditation, it increases life energy -- engendering a sense of wholeness, connection and general equanimity.
Heart of the Shamans is a voyage through the energy centers of the body. Beginning with the first track, Ceremony of the Heart, we set our heart's intention and direction; then ascend and expand into the Cosmic Soul Lotus. Transcendent frequencies are embodied in a purifying fire ceremony in Healing Fire Breath, quickening our life energy and healing potential. Temple of the Goddess opens and unifies our awareness into compassionate being; we then root our inner vision for manifestation in Ecstatic Grounding. In track 6, Sacred Blessing – the final phase of the cycle -- we plant the medicina of our soul into the earth and make offerings in her honor.
The album's liner notes offer guidance for participatory, immersive listening. They suggest finding a quiet setting to experience the soundscapes and ponder one's intentions, and creating a sanctuary of personal meaning – by lighting a candle or burning offerings of gratitude – to lend a sense of the sacred to one's journey. A succession of mudras – traditional hand gestures from India believed to provide physical points of reference and increase energy flow throughout the body – are suggested, each specific to one of the six major compositions on the album, to enhance the participant's experience.
Following the six distinctive tracks are two bonus remixes – of tracks from Liquid Bloom's debut album, Shaman's Eye -- which were created specifically for trance journeying. Their multi-layered currents of sound and chanting, woven around the steady heartbeat of theta brainwave rhythms, have been freshly remixed to embrace Ixchel Prrisma's medicine songs.
Some of the outstanding artistic contributions to this project include Native American music legend Robert Mirabal with his Taos flutes and chant, the sacred medicine songs of vocalist Ixchel Prrisma, the ethereal voice of Sarah West and overtone singing by Rara Avis, to name a few.
Amani Friend, based in New Mexico, has been a pioneering producer of world fusion, electronica and dub music for over 25 years. Co-founder of the Desert Dwellers and Liquid Bloom projects, he creates signature soundscapes which transport listeners to inner spaces and otherworldly sonic dimensions. He has produced a prolific catalog of albums for various labels, remixed some of the biggest names in the electronic downtempo and yoga scenes and has appeared at festivals around the globe.
Following in the footsteps of his Shaman's Eye album, his mother Bente Darma Friend was inspired by her healing practice to create an extended musical journey for spiritual awakening. In 2006, Amani was joined for a month in his New Mexico studio by Rara Avis, to focus solely on this project. New Mexico -- alive with an ancient lineage of guiding spirits and elders -- is a traditional birthing place for inspiration and magic. With Bente Darma's direction Amani and Rara created a framework, translating the cycle of energy centers into soundscapes and sound design. The work of various musicians and vocalists who gathered in the studio over time was gradually recorded and arranged into a mosaic of sound and spirit, enhancing each phase of the conceptual journey.
On New Years Eve 2012, Amani met Ixchel Prrisma in Guatemala. Two more years passed, while Amani worked on integrating Ixchel's ceremonial medicine songs into the visionary collaboration. The collective of this collaboration, known as Liquid Bloom, and Boulder-based White Swan Records – the leading label in the yoga & meditational music field – are pleased to offer Heart of the Shamans for release on January 27, 2015 in both physical and digital formats.
A portion of proceeds from all sales of this album will benefit The Paititi Institute for the Preservation of Ecology and Indigenous Culture, a nonprofit organization devoted to the integration of indigenous wisdom into every day life.
# # # # #
HEART OF THE SHAMANS - Musicians:
Amani Friend - production, sound design, composition, pads, didgeridoo, percussion, shakers, jaw's harp, nature recordings, gongs & bells
Rara Avis - pads, mantra chants, overtone singing, spoken word
Ixchel Prrisma - medicine songs, sacred chants, channeled prayers, mantras, spoken word
Sarah West - vocals and tones, spoken word
Robert Mirabal - Native American flutes, spoken word
Aum Prakash - whistles, charango, mantras, jaw's harp
Bente Darma Friend - spoken word
Domonic Dean Breaux - silver flute
Steve Landsberg - surbahar and tamboura
James Cunané - shamanic smoke breath
David Dunn - nature recording of pond insects