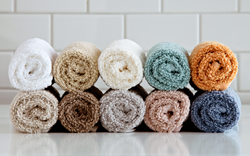 Dallas, Tx. (PRWEB) January 05, 2015
As the pace slowly winds down from holiday celebrations and merriment, thoughts turn inward to the new year, a renewed focus, and a clear resolve. Comfort of home and hearth feature prominently in resolutions, and Peacock Alley is here to help translate these promises into reality.
Always high on the list of resolutions is plentiful, quality domestic downtime to recharge both physical and emotional batteries. This year, resolve to:

Make your home a haven. Peacock Alley can help you get there.
ABOUT PEACOCK ALLEY
Peacock Alley, was founded by Mary Ella Gabler more than 40 years ago and has been family owned and operated ever since. Peacock Alley has a rich history of designing and manufacturing bed and bath linens that combine a subtle touch of indulgence with trendsetting styles, always mindful of comfort and versatility. To learn more about Peacock Alley, please visit peacockalley.com, follow our news on Twitter @peacockalleyusa or like us on Facebook at Facebook.com/PeacockAlley