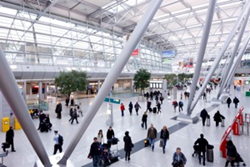 Yet another top figure in Düsseldorf Airport's history
Düsseldorf, Germany (PRWEB) January 02, 2015
Düsseldorf Airport (DUS) ends its 2014 operating year with a new record in passenger numbers: About 21.8 million travelers and 202,000 flights, representing an increase of 2.9 percent in passenger numbers at a nearly equal number of take offs and landings compared to the previous year.
It is the fifth consecutive year of new passenger records for Düsseldorf Airport, illustrating the airport's continued positive developments. One example is the addition of high-caliber long-haul routes each year, including Air China to Beijing, Etihad Airways to Abu Dhabi, American Airlines to Chicago, and All Nippon Airways to Tokyo. Currently, Air Berlin is boosting its DUS presence with new destinations and increased frequency of long-haul leisure travel routes, such as to the Caribbean. More than 110 weekly intercontinental flights now round off the extensive network of European and domestic flights.
"The world of airlines is in a major state of flux, which is why I am even more excited about this outstanding traffic result. Yet another top figure in Düsseldorf Airport's history confirms our traffic-building strategy of connecting this region's people and business with the world's most important markets and metropolises," says Thomas Schnalke, DUS CEO. "As North-Rhine Westphalia's largest airport, we keep a keen eye on both the traditional airlines and those from Arab Gulf States. In cooperation with our partners, we offer our passengers a diverse route network with exciting destinations in both leisure and business travel." This way, the state capital's airport can further develop its leading position with a market share of about 60% in North-Rhine Westphalia.
In League with New York, London, Paris and More
Adding to Düsseldorf's appeal, several North American cities (Atlanta, Chicago, Ft. Myers, Los Angeles, Miami, New York, Newark) offer non-stop flights. Passengers who continue their journeys can choose from numerous convenient connections to Berlin, Munich, Frankfurt, Hamburg and many other German and European cities. Throughout the year, 60 airlines serve 180 destinations worldwide – among them 125 European destinations. Another major advantage of the airport is its layout. With all gates in one terminal building, Düsseldorf Airport is the "airport of short distances" – guaranteeing minimum connection times of 35 minutes.
The airport is at the center of the Rhine Ruhr area, a bustling network of 53 connected cities and 18 million residents within 40 miles. It is the EU's third largest market in volume and spending and equal to major metropolitan regions like New York, London and Paris. 500,000 companies are located in the area, including 5,000 offices of foreign corporations, the majority from the Netherlands, Japan and the USA. Many major international industry players, including Fujifilm Europe, Nokia Siemens, Novell, Ericsson, Deloitte & Touche, McKinsey, and Toshiba, are headquartered in Düsseldorf, which is a first-rate location for high-tech concerns. International presence and fast accessibility – guaranteed by DUS being one of Germany's major hubs – make the location highly attractive.
Düsseldorf and North Rhine-Westphalia, ranked 17 in GDP among the world's major industrial centers, are also home to some of the most significant exhibitions and trade shows in the world. Of the 50 annual events at Düsseldorf's Exhibition Center, 23 lead their industry worldwide, for example, printing technology ("drupa"), plastics and rubber ("K"), medicine ("MEDICA" and "REHACARE INTERNATIONAL"), leisure time ("boot") or packaging ("interpack"). For more information on Düsseldorf Airport, visit http://www.dus.com.
###
Düsseldorf Tourism & Marketing GmbH is the visitors and convention bureau of the city of Düsseldorf. Its services include tourism and city marketing, conference and meeting marketing, hotel reservation services, fairs and convention services, city event ticket sales and advance ticket reservations. For more information, visit http://www.visitduesseldorf.de.