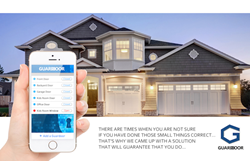 Guardoor: Keeping you up-to-date about your home's security, anywhere, everywhere!
(PRWEB) January 05, 2015
January 1, 2015 – A new security system has been conceptualized to protect homes, families or offices in the modern times. KIKTEC, the leading company to deliver reliable security solutions, has now come up with the unique Guardoor technology for protecting homes and businesses. The company aims at delivering the solution by April-May this year and is currently running an Indiegogo campaign to collect the necessary funding.
The campaign was started on Dec 30, 201 and it will be closed by Feb 3, 2015. The Marketing Team Head of KIKTEC, Simo Hamdaoui is confident that they will gather the necessary funding within the specified period for the market production of a feature-rich home security system of the modern era. According to Simo, Guardoor has several exceptional and well-thought features that make it an advanced security system to secure a home or a business. At a humble cost of $79, Guardoor will empower renters, travelers, students, shop owners and others to change the way they used to protect their homes, families or businesses.
The Guardoor will contain a set of tabs that could be placed in the corners of the windows, doors, garages and other places. When the sensor notices some movement, it alerts the person by sending signals to his/her smartphone or tablet. This way, the system intimates a homeowner about the presence of any intruder, and allows the person to call the police or forward the message to family, friends or neighbors. Thus, one can immediately pass on the alert to someone who can quickly reach to the site to ensure its protection.
The system is user-friendly and portable and one can receive alerts on any handheld computing device through an app or on a computer. The system could be very useful for someone who travels frequently or remains away from home for a longer period of time because of his/her work. They can now rest assured about the safety and security of their homes.
KIKTEC is confident about the success of the project and invites support from the generous people who want to use this advanced home security system in future. One can make contributions of just $5 to support the cause. However, for a contribution of $59, one can receive one Guardoor at an early bird cost, which otherwise will cost $79. They have several other types of options for the contributors and each will receive exciting returns for their contributions. To learn more about the project or to make contributions, one may follow the link http://www.igg.me/at/guardoor
About KIKTEC
KIKTEC is a company obsessed with creating a great safety device that's durable, affordable and safe for protecting homes or business. The company designs new products that are dedicated to quality to ensure safety of homes. They have engineered a unique sensor that is more durable and one need not to worry about replacing them.
For Media Enquiry:
Email: media@kiktec.com
Website: http://www.igg.me/at/guardoor