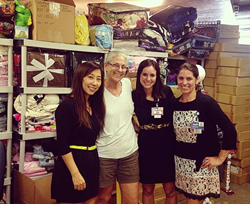 It was pleasure to be part of this event. I feel like I met real Santa in this hospital. – Sam Hee Jung Na, the founder of MyGirlDress.com
Los Angeles, CA (PRWEB) January 03, 2015
New Donation Program with Los Angeles Children's Hospital is MyGirlDress.com's way of giving back to the community. MyGirlDress.com has made a huge effort in trying to help out the Los Angeles Children's Hospital the best we can with the resources we have been blessed with.
On October 29th, 2014, the MyGirlDress.com team was lucky enough to finally kickoff our newest charity program with the Children's Hospital Los Angeles This is something the company has been working and planning with the Los Angles Children's Hospital for months now. They have now set up a monthly donation program with the LACH where MyGirlDress.com will be donating hundreds of dollars of our fabulous product to the hospital once a month.
The company founder Sam Hee Jung Na and a few others visited LACH for the very first monthly donation of over $1000 worth of elegant dresses and more for the hospital's "Holiday Hearts Program." The MyGirlDress.com team had the privilege of getting an awesome tour of the hospital that ended in the hospitals very private "North Pole." The "North Pole" at LACH is a extremely private section of the hospital where they keep all things donation to them; the room was filled ceiling to floor with array clothes, toys, and many other gifts donated to the hospital. It was an honor to be there and get to see and meet all the wonderful people involved in helping LACH. All and all is was a good day and we look forward to visiting again for next month donation.
MyGirlDress.com is one-stop shopping for children's formal outfits. They are located in Los Angeles, CA. They provide special occasion dresses for girls, such as flower girl dresses, junior bridesmaid dresses, Easter dresses, first communion dresses, graduation dresses, christening dresses, pageant dresses, Christmas dresses, birthday dresses, and others. 95% of MyGirlDress.com's dresses are made in the US with the finest quality. They have over 1000 different styles to choose from and most of them are in stock.