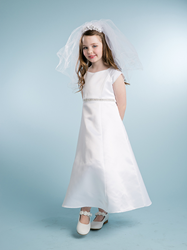 We consider your precious little lady's First Communion Dress to be as holy a treasure as the celebration itself! With great joy, we proudly present an extensive selection of dresses that grows marvelously with tons of new arrivals every week, year-round!
Los Angeles, CA (PRWEB) January 04, 2015
Adorn your little princess with opulence from our exclusive range of First Communion Dresses at MyGirlDress.com..
MyGirlDress.com announces 2015 First Communion Dress Collection. The new collection is classic yet trendy design styles and ranging in price from $40.00 to $180.00. MyGirlDress.com has always prided themselves on their unequivocal ability to provide designer-inspired pieces at a fraction of the price.
They also has added two designer brands to its 2015 collection such Joan Calabrese and Petite Adele. Joan Calabrese is popular design brand from Mon Cheri Bridals, LLC. and Petite Adele is Los Angeles Based mid price point brand with high quality.
MyGirlDress.com's First Communion dresses selection is guaranteed to bless her on this special day while making her look & feel just like an angel. These styles are one-of-a-kind, fashioned gorgeously with tasteful contemporary flair & elegance while still maintaining the conventional, antiquated standards of traditional ceremonial gowns. They also provide great selection of First Communion veils, gloves and candles. My Girl Dress carries everything you'll need to ensure the most unforgettable First Communion ceremony for you and your divine little girl.
MyGirlDress.com is located in Los Angeles, CA. We provide special occasion dresses for girls and toddlers, such as flower girl dresses, junior bridesmaid dresses, Easter dresses, first communion dresses, graduation dresses, christening dresses, pageant dresses, Christmas dresses, birthday dresses, and others. 95% of our dresses are made in the US with the finest quality. They have over 1000 different styles to choose from and most of them are in stock. Also be sure to keep an eye out for daily deals in the site as well as flash sales going on.