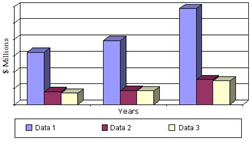 Wellesley, Mass. (PRWEB) January 02, 2015
BCC Research (http://www.bccresearch.com) reveals in its new report on fracking fluids that its global market reached $56 billion in 2014. This market should grow to about $88.5 billion in 2019, with a compound annual growth rate (CAGR) of 9.6% from 2014 to 2019.
Industry experts estimate that the fastest growth market for fracking fluids will be in Europe, reaching a 38.3% CAGR by 2019. Currently, this region has only one country (Turkey) with extant hydraulic fracturing operations. BCC Research anticipates within the next five years four other countries in Europe (France, Germany, Ukraine and the U.K.) will move beyond the preliminary exploratory activities and start commercial oriented hydraulic fracturing operations.
While the upsides for the prosperous growth of the fracking fluids industry reaches revenues in the trillions of dollars, the consequences of failure to properly address the environmental and water quality concerns from the use of fracking fluids may have staggering public health issues. "The major trends that challenge growth of the fracking fluid market include tightening regulations in countries with proven technically recoverable shale gas and oil reserves, waste disposal and the rise in social activism against the hydraulic fracturing technology in key markets," says BCC Research analyst Dr. Gordon Nangmenyi.
The successful development of global hydraulic fracturing not only has a direct effect on the fracking fluid industry, but also on the pumps, steel, water and wastewater management industries. The growth of hydraulic fracturing in the U.S. may have far reaching effects for the global economy and help to reframe the landscape for global energy co-operation.
The Global Market for Fracking Fluids covers the global fracking fluids market — including the most popular technologies — the amount and type of production, and presents market forecasts over the next five-year period (2014 to 2019) for each major component and the specific additives in use.
Editors and reporters who wish to speak with the analyst should contact Steven Cumming at steven.cumming(at)bccresearch(dot)com.
About BCC Research
BCC Research publishes market research reports that make organizations worldwide more profitable with intelligence that drives smart business decisions. These reports cover today's major industrial and technology sectors, including emerging markets. For more than 40 years we've helped customers identify new market opportunities with accurate and reliable data and insight, including market sizing, forecasting, industry overviews, and identification of significant trends and key market participants. We partner with analysts who are experts in specific areas of industry and technology, providing unbiased measurements and assessments of global markets. Recently selected as the world's greatest market research company, BCC Research is a unit of Eli Global, LLC. Visit our website at http://www.bccresearch.com. Contact us: (+1) 781-489-7301 (U.S. Eastern Time), or email information(at)bccresearch(dot)com.