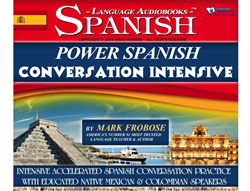 Champaign, IL (PRWEB) January 02, 2015
New Year 2015 has just come in and wannabe language learners are already clamoring to fulfill their New Year's Resolution to finally learn to speak at least one new language.
To meet this growing need, LanguageAudiobooks.com CEO announces the release of new and exciting smartphone-friendly language programs just in time for early language learning on the go.
"We thought the timing of our release should coincide with the New Year," announced LanguageAudiobooks.com CEO Mark Frobose, bestselling author of Power Spanish Conversation Intensive.
"The recently released titles will appeal to serious language learners, travel aficionados, students and businesspeople," explained Frobose, who also authored Power Italian 2 Accelerated.
"Some of our programs are niche oriented, like Spanish for Love and Dating, and others are simply rock-solid salt-of-the-earth language programs that teach people languages everywhere they go on their smartphones," explained the bestselling author of Smartphone Italian Intensive.
And how about the travel courses?
"Spanish for Travel & Eating Out, French for Travel & Eating Out, and Italian for Travel & Eating Out are top-selling recent releases," explains Mark, who himself is an avid traveler and connoisseur of fine foreign foods.
The new titles are Power Spanish Verbs I, Power Italian Verbs I, Spanish Sentence Magic, Mandarin Sentence Magic, and Smartphone French Intensive & Smartphone Italian Intensive.
Learn Languages Everywhere® is the motto of LanguageAudiobooks.com. The Language Audiobooks® method is an extremely effective and versatile audio language learning system that can be used anywhere for any duration of time to teach people to speak any language while in the car, at home or on a smartphone!
Free sample lessons of Language Audiobooks' popular Power Spanish, Power French, Power Italian, Bite-Sized Mandarin, Conversational Latin-American Spanish, Clean French Slang and other innovative language programs are available now at LanguageAudiobooks.com and at Audible.com.