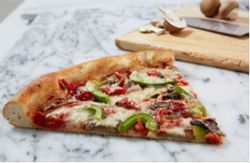 Columbus, OH (PRWEB) January 05, 2015
Sbarro is starting the New Year off right with the new Garden Harvest Veggie Pizza. Made in house daily, the latest premium menu item features fresh ingredients, hand chopped vegetables and full flavor.
The pizza's flavorful toppings consist of roasted crimini mushrooms, caramelized onions, green bell peppers and roasted red peppers. As with all Sbarro pizzas, the Garden Harvest Veggie features dough that is made fresh daily and includes the company's signature San Marzano – style tomato sauce. Each slice is cut in the same extra-large New York-style size that Sbarro is known for.
Those looking to watch their waistlines can order a combo, which includes a side salad and a drink, for under 500 calories.
According to Dwayne Adams, Sbarro's VP of Culinary, consumers are looking to make healthier dining choices, especially during the beginning of the year. "We wanted to offer a healthy option that doesn't sacrifice flavor."
Customers can try this limited time offering at select Sbarro eateries starting January 1, 2015.