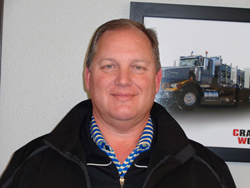 Houston, TX (PRWEB) January 04, 2015
Whitaker is a salesman in the Colorado office. He promotes the full Crane Works product line across Colorado, Utah, New Mexico and Arizona. In Wyoming and Montana he's the point man for material handling equipment. Whitaker joined the Brighton team on Aug. 10.
"I've always been able to talk to people. I just fell into [sales]. It wasn't anything I aspired to," Whitaker says. "You go out and build relationships. It just worked out."
In fact, this Southern boy to the bone wanted to be a race car driver. His dad was a huge NASCAR fan, and they always went to the races in Georgia.
Because of his dad's job promotions, Whitaker attended three high schools in three states: Georgia, Tennessee and Alabama. Clearly, Whitaker developed the gift of gab at an early age, ensuring he easily fit in wherever he landed.
"When you're in sales, you're always on," Whitaker says of his workdays. "I'm available for whatever my prospects need me to be available for – even if it's at 5 o'clock in the morning." He works an 8 – 4 schedule, but occasionally Whitaker is making sales calls as late as 6 p.m.
"It's fun. The people that you come into contact with. The equipment itself is fun to operate," he says. "Then, there is the thrill of the sale..."
Whitaker's sales training includes cars, scales, cranes and forklifts. He is an alumnus of the Dale Carnegie and Tom Hopkins sales courses. Past employers include Cargotec, Palfinger North America and Pine Mountain Equipment Distributors.
"This is more about relationship building; where you work with a customer and they trust you, and you build a relationship. My job is to provide guidance as to what they should do," Whitaker says. "Unlike vehicle sales, these people are buying stuff that's going to last 10 to 20 years."
Whitaker's workdays are a mixture of prospecting's best practices. Depending on whether he's in town or out of town, he fields a few company-supplied leads, utilizes town advertising databases, employs phone books and several other lists, readies his GPS, then hits the street.
"I enjoy getting up and getting out the door," Whitaker says about what keeps him going, after joking about his wife kicking him in the rear end. "I don't like being in an office. I like getting out and seeing places and meeting people. Seeing if I can help them with the products we carry. I sell equipment, and I help people."
Whitaker is driven by the work ethic his father taught him.
"If you're going to do something, do it. He worked two jobs for as long as I can remember. You can't really work two jobs in sales," Whitaker points out.
In the past, he's spent up to two weeks on the road selling product in large territories with a lot of space. These days, his typical schedule includes a Sunday evening departure and a Thursday return.
It helps keep him close to his wife of 29 years, Cindy, and their children: James, 25; Emily, 23; Bethany, 15; and Jared, 13. For fun, Whitaker golfs. He and his family are also active in their church, Faith Baptist, in Parker.
For more information, please contact Tony McMorris, Director of Communications/Marketing North America: (281) 219-7779 or tmcmorris(at)crane-works(dot)com.