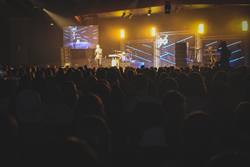 In a world consumed by sexual smog, the O2 Experience is a breath of fresh air.
Los Angeles, CA (PRWEB) January 12, 2015
Life. Death. Sex. Romance. The O2 Experience, a touring event tackling these topics and more, announces a Southern California tour.
Founded in 2004 by Levi Lusko, the event is an opportunity for people to hear the life-changing message of the gospel and understand God's plan for their sex lives. Lusko, emcee for Greg Laurie's Harvest Crusades and Creative Consultant for the Billy Graham Evangelistic Association, is passionate about shedding light on the world's polluted approach to dating, sex and romance.
He began the O2 Experience with a vision to give the world's sexually-charged hook up, shack up, break up culture a look at the path to true pleasure. Amidst a world where sex drives and the highest good is to feel good, he reveals the connection between purity and power. Attendees can expect high-energy music, dynamic production and a clear message on some of life's hardest questions.
An event for 20 to 30-somethings, high school and middle school ages are also welcome. The O2 Experience is free, features live music and will be held in five cities throughout Southern California:
January 24 - Santa Barbara - Calvary Chapel Santa Barbara
January 25 - Los Angeles - Core Church
January 28 - Menifee - Revival Christian Fellowship
January 30 - Costa Mesa - Calvary Chapel Costa Mesa
February 2 - San Diego - Maranatha Chapel
More information at http://www.o2experience.com.
About O2 Experience
Founded in 2004 by Levi Lusko, the O2 Experience is a fresh look a life, death, sex and romance. Developed from the idea that like our bodies need oxygen, our souls need God, the event centers on a culturally relevant and clear gospel message and answers about God's plan for our sex lives.