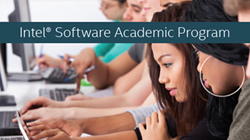 (PRWEB) January 04, 2015
A recently released document from Intel® highlights an energy systems program with Portland State University's Maseeh College of Engineering and Computer Science. The Big Data Smart Grid Project is a three-year research study that will improve how long distance power transmission lines work, as well as change the way municipalities will utilize power in the long term.
Powerful Intel® tools will help the researchers to develop efficient algorithms, determine optimal grid operating parameters, and expand troubleshooting ability. The eventual goal is for multiple data streams to be integrated successfully into the smart grid for analysis and forecasting, enabling maximal flexibility in adapting to real-time changes.
The Intel® Software Academic Program recognizes the importance of incorporating new technologies and renewable resources while conserving the sources already in place. With energy demand only growing, Intel has offered continual support of such valuable research.
"Intel's involvement in the Big Data Smart Grid Program is helping facilitate rapid analysis of large amounts of data that will ultimately contribute to more effective use of resources across the whole system," stated Dr. Timothy Anderson, Department Chair of Engineering and Technology Management at Portland State University.
For more information on the Intel® Software Academic Program, please visit: https://software.intel.com/en-us/academic.
For more information on Portland State University's Maseeh College of Engineering, please visit: http://www.pdx.edu/cecs/.
Intel, the Intel logo and Intel Inside are trademarks of Intel Corporation in the U.S. and/or other countries.
*Other names and brands may be claimed as the property of others.
Copyright © 2014 Intel Corporation. All rights reserved.