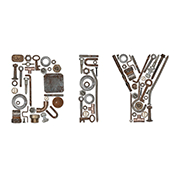 January is the time for DIYers to celebrate their craft.
Denver, CO (PRWEB) January 07, 2015
Every year kicks off with National Hobby Month in January, which is the perfect time for DIY aficionados to celebrate their craft. Whether you brew beer, make candles or design lip gloss, Lightning Labels, a custom label and sticker printing company, can help hobbyists elevate their craft through custom label and sticker printing. This allows crafters to make their goods appear more professional - imagine a beer with a professional label that mimics brews sold in stores or lip gloss with professional packaging.
"January is the time for DIYers to celebrate their craft," explained Scott Proctor, Vice President of Sales at Lightning Label. "But what if in 2015, hobbyists took the extra step and created labels and stickers for their goods? People may think this is expensive but it really is not, particularly if people take the time to find a custom printing company that suits their specific needs and offers competitive prices."
Three Hobbies that Could Benefit From Custom Labels
So, what are some popular hobbies that could benefit from some professional labels? A few are listed below:

Baked goods: People love cooking, and baked goods remain popular among foodies. In fact, some bakers even sell their treats or give them away as gifts during the holidays. Professional labels are not only important for identification purposes - for example, denoting what kind of cookies are in the package - but also because ihey make edibles look more complete. Labels are also important for expiration dates, nutrition facts and other crucial information.
Beer: Brewing beer is a popular hobby among young hipsters and older boomers alike. Once again, labels are important not only for identification purposes, but also just because image is so important for beer. Imagine receiving a six-pack of unlabeled beers as a gift? People may not know what to think about it.
Cosmetics: More people are making their own cosmetics - this way, they know precisely what chemicals and ingredients they are applying to their bodies. Labels help hobbyists tell all of their different cosmetics apart and give products an elegant look and feel when designed well.
Craft Labels for Craft Products
In a month designed to celebrate craft products, why not create some unique labels as well? This will help hobbyists celebrate their past times in style, and it will not cost much to boot.
About Lightning Labels:
Lightning Labels uses state-of-the-art printing technology to provide affordable, full-color custom labels and custom stickers of all shapes and sizes. From small orders for individuals to the bulk needs of big businesses, Lightning Labels is equipped to handle and fulfill custom label and sticker projects of all types. Best of all, like the name implies, Lightning Labels provides a quick turnaround for every customer's labeling needs. Uses for Lightning Labels' custom product labels and custom stickers include food packaging and organic food labels, wine and beverage labels, bath and body labels, and nutraceutical products, such as vitamins, essentials oils, and herbal remedies, as well as event stickers, adhesive window stickers and more. Lightning Labels strongly supports the development of environmentally friendly printing materials and carries EarthFirst PLA, a new kind of green label material made from corn instead of petroleum. While operating as a high-tech printer, Lighting Labels prides itself on its personalized customer service. Lightning Labels provides one stop shopping for all of your custom label needs. For more information and to place orders online, visit LightningLabels.com. For the latest in packaging news and labeling promotional offers, find Lightning Labels on Twitter (@LightningLabels), Facebook, Pinterest, Google and LinkedIn.