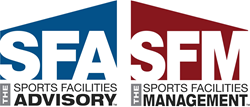 ...there's no question that adaptive sports is a growing category and a need in every community we serve.
Clearwater, FL (PRWEB) January 05, 2015
The Ability Center (TAC), a proposed 200,000 square foot Milwaukee Regional Medical Center-based health and fitness facility designed specifically for people with disabilities, has moved a step closer to reality with the successful conclusion of an economic feasibility study by Sports Facilities Advisory (SFA), a leading resource in sports facilities planning and management. TAC was deemed economically viable by SFA "due to the lack of accessible facilities in the region"1 and because the Founder Damien Buchman, and his board have completed extensive work to develop a strategy for attracting users to the facility. The central location of the Milwaukee Regional Medical Center, local partners, and the market demand for court sports each played a role in the feasibility findings which were based on SFA's rigorous standards.
The driving force behind The Ability Center is founder Damian Buchman, a native of Wauwatosa, a Milwaukee suburb. Buchman was diagnosed as a teenager with osteosarcoma, a rare and virulent form of bone cancer. After chemotherapy and many rounds of surgery, he stands as a rare survivor of the disease, a competitor in a variety of adaptive sports, and the founder of several organizations for disabled athletes. "This [The Ability Center] is going to happen," Buchman says, "because we need it. Wisconsin needs it. America needs it. And guess what? I need it, too."2
Additional impetus for the completion of the facility was provided by a separate study by a local Milwaukee firm, which estimated that The Ability Center could generate about $15 million per year in economic activity, including expenditures by the center itself, spending by visitors, and secondary spending as a result of those visitors. The facility plans include a track, fitness center, climbing wall, several pools, 12 volleyball courts, and six basketball courts.1
TAC will be tailored to what is described as an otherwise underserved, largely untapped demographic: athletes with disabilities in search of tournaments and other athletic competition. Potential tournaments cited as possibilities by Buchman and his associates include the USA Volleyball Junior Olympic and Junior Volleyball Association, USA Volleyball and Recreational Adult, AAU and Youth Basketball, and Special Olympics Volleyball, Basketball, and Track & Field. Currently, Buchman says, the number of available facilities suitable for hosting athletic competitions for athletes with disabilities is very small—in fact, virtually non-existent.
"We specialize in amateur sports complexes and sports tourism," says SFA|SFM Founder and CEO Dev Pathik, "and there's no question that adaptive sports is a growing category and a need in every community we serve. The London 2012 Paralympic Games, for example, were one of the largest multi-sport events ever held in the United Kingdom, and were the largest Paralympics ever, with over 4,000 athletes from 164 countries taking part."3
A key reason for locating The Ability Center in the Milwaukee Regional Medical Center will be to provide both a resource for patient rehabilitation and a kind of living laboratory for researchers and physicians. The center, Pathik notes, will also be well positioned to help serve the nation's growing roster of disabled veterans. According to the Associated Press, a staggering 45% of the 1.6 million veterans of the wars in Iraq and Afghanistan are seeking compensation for service-related injuries.4 Participation in adaptive sports activities has been shown to be of significant benefit, not only to veterans with combat-related physical injuries such as traumatic amputation, but also to the emotional and psychological symptoms of post-traumatic stress disorder.5
Speaking of his company's role in the development of The Ability Center, Pathik adds that SFA proves an effective resource to its clients due to its financial forecasting models, market research, and proven track record resulting in reliable feasibility analysis. Numerous lending and financial institutions of nearly every type rely on SFA feasibility studies as the industry standard and SFA's processes are designed to solve problems and uncover revenue-generating opportunities when possible. Due to SFA's conservative forecasting approach, the detail of its financial documents, and its unparalleled access to current operations data, the company continually updates its planning and financial models based on actual market conditions.
For more information about SFA|SFM and its available suite of planning-funding-opening-management services, visit http://www.sportadvisory.com/home.html.
About Sports Facilities Advisory and Sports Facilities Management (SFA|SFM):
The Sports Facilities Advisory and Sports Facilities Management (SFA|SFM) is the leading resource in sports facility planning and management. SFA|SFM has served a portfolio totaling more than $4Billion in planned and operational sports centers in communities throughout the USA and internationally since its founding in 2003. Youth and amateur sports and community recreation centers now require professional planning and management. SFA's proprietary data system—based on years of planning, funding and managing facilities, coupled with the rise of the youth sports segment—is the engine behind the development of SFM. Since its inception, SFM has become an industry leader in the management of amateur sports and events complexes, and along with SFA, provides the planning, financing and management expertise needed to turn ideas into successful recreation facilities. SFA|SFM serves both public and private clients. Its services fall into four main categories: plan, fund, open and manage, which encompass every phase from early stage feasibility studies to preparing financing documents, overseeing development and opening and full-time management services. SFA|SFM's success depends upon its mission to dramatically improve communities through the opening or optimization of sports and recreation centers. For more information, visit http://www.sportadvisory.com/home.html.
1. Linnane, Rory, "Wauwatosa man's dream 'Ability 'Center could have $15 million annual impact," Wauwatosa Now, Nov, 19, 2014. wauwatosanow.com/news/283213501.html
2. "Against the Odds," tacwi.org/mission/damians-story
3. "2012 Summer Paralympics," Wikipedia. en.wikipedia.org/wiki/2012_Summer_Paralympics
4. "U.S. vets' disability filings reach historic rate," USA Today, May 28, 2012. usatoday30.usatoday.com/news/health/story/2012-05-28/veteran-disability/55250092/1
5. Lundberg, Neil; Bennett, Jessie; Smith, Shauna. "Outcomes of Adaptive Sports and Recreation Participation among Veterans Returning from Combat with Acquired Disability," Therapeutic Recreation Journal, 2011. va.gov/adaptivesports/docs/lundberg_final.pdf