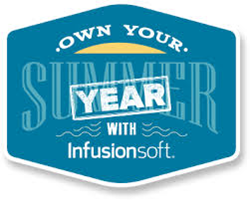 All indications are, with Dan's positive outlook, drive and excitement around his mentoring, coaching and Infusionsoft development, that he is moving on the fast track for success
(PRWEB) January 05, 2015
GetUWired, a full-service Internet marketing firm, has been chosen to provide a complete Internet marketing makeover to Infusionsoft "Own Your Summer" contest winner Zoar Financial.
GetUWired was selected by Infusionsoft to provide the marketing makeover because of its long, healthy relationship with Infusionsoft and its reputation for helping small businesses successfully leverage Infusionsoft's many features to create maximum ROI. GetUWired recently released a blog detailing the work being done for Zoar Financial. The blog can be found here.
Infusionsoft "Own Your Summer"
Infusionsoft's "Own Your Summer" contest was launched to help small business owners overcome typical business challenges so they can reclaim more time to invest in themselves. The grand prize of the contest was a complete Internet marketing makeover by GetUWired, one-on-one mentoring from Shark Tank star and FUBU founder Daymond John, strategic consultation with GetUWired Vice President of Business Development Dobbin Buck, a vacation in Maui, and a free Infusionsoft app.
Dobbin Buck travels to NYC for "Own Your Summer"
Dobbin Buck recently traveled to New York City to act as an ambassador for GetUWired during Zoar Financial President Dan McCarty's mentoring session with Daymond John. During the one-hour mentoring session in the Shark Branding offices in the Empire State Building, Dan McCarty received invaluable business advice from Daymond John and Shark Branding Chief Digital Officer Cliff Worley.
Dan McCarty and Zoar Financial are on the "fast track to success"
"All indications are, with Dan's positive outlook, drive and excitement around his mentoring, coaching and Infusionsoft development, that he is moving on the fast track for success," said Dobbin Buck.
GetUWired's Internet marketing makeover
As part of Zoar Financial's Internet marketing makeover, GetUWired has developed a host of automated marketing campaigns, sales pipeline management, and Infusionsoft solutions that will help Zoar Financial streamline and improve its business processes.
Who is Zoar Financial?
Zoar Financial is a Dave Ramsey Endorsed Local Provider that provides financial planning, investments and insurance products. Zoar Financial is located in Albany, N.Y.
Dan McCarty was selected as the winner of the Infusionsoft "Own Your Summer" contest because of his drive, enthusiasm, and belief that Infusionsoft can help him maximize his business.
For more information, contact GetuWired at 877-236-9094 or visit http://www.GetUWired.com.