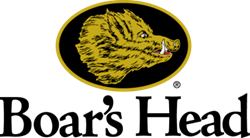 Sarasota, Fla. (PRWEB) January 06, 2015
The new year inspires resolutions for healthier lifestyles and making better-for-you choices. Boar's Head Brand®, one of the nation's leading providers of premium delicatessen foods, offers simple strategies for using grocery shopping trips to keep resolutions on track. From shopping off a list, to looking for lower sodium options, here are a few suggestions to start your new year and a healthier new lifestyle.

Make a List. Check Off As You Go: Plan meals in advance and shop for groceries with a road map for healthier eating. List ingredients by section of the store or deli and only purchase items on the list. Smart phones also are great tools for a virtual shopping list.
Look For Flavorful Lower Sodium Products: Select products with lower sodium to meet health goals in the new year. Boar's Head offers more than 20 lower sodium meat and cheese options. Try Boar's Head Deluxe Low Sodium Oven Roasted Beef for a flavorful low sodium option. (Link to product: http://boarshead.com/products/lower-sodium/235-deluxe-low-sodium-cap-off-choice-top-round-half)
Perimeter Shopping for Healthiest Options: Look to the perimeter of the grocery store, including the deli counter, to find many tasty and good-for-you ingredients for the whole family.
Choose Wholesome Spreads: For additional flavor on wraps and sandwiches, spread on Boar's Head Hummus as an alternative to mayonnaise. Even better, Boar's Head Hummus comes in four flavors and it's an all natural product that's gluten free and healthy. (Link to product: http://boarshead.com/products/hummus)
Read Labels for Taste You Can Trust: For 110 years, Boar's Head has committed to providing the highest quality foods that offer mouth-watering flavors without cutting corners. The delicious taste of Boar's Head products come from using the finest ingredients combined with real spices, and no fillers, by-products, artificial flavors or colors, or gluten.
To learn more about the full Boar's Head portfolio of lower sodium products, visit http://www.boarshead.com/lowersodium, like us on Facebook at facebook.com/boarshead, or follow Boar's Head on Twitter @Boars_Head
About Boar's Head
Founded in 1905, Boar's Head Brand has upheld a commitment to unwavering standards for quality for over a century, refusing to take shortcuts that compromise the integrity of its products for the sake of convenience or economy. What started with just a few products has grown to over 500, ranging from premium delicatessen meats, cheeses and condiments to an array of Italian and Old World specialties, hummus and foodservice items. All Boar's Head meats, cheeses, spreads and condiments contain no fillers, by-products, artificial colors or flavors, gluten or trans fat. For more information, visit boarshead.com or facebook.com/boarshead.