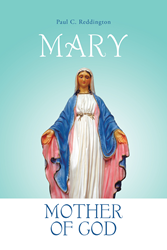 I think many people can relate to the challenges Mary faced.
NEWARK, Del. (PRWEB) January 07, 2015
Sometimes the best plays require divine intervention.
U.S. Navy veteran and great devotee of the Blessed Mother Paul Reddington writes about the Virgin Mary's unique motherhood in Mary Mother of God. A fictionalized storytelling of Mary's life spanning before her son's birth and after his crucifixion, Mary Mother of God offers a unique perspective on Mary's thoughts and feelings throughout the trials of her life and her devotion to God.
"Mary was very obedient to God's difficult requests," Reddington said. "Her faith kept her going."
Mary Mother of God also focuses on motherhood and the challenges associated with raising children. Reddington has 12 children, nine girls and three boys, which he considers a learning experience about women and motherhood.
A glimpse into the life of a simple woman with great responsibility, Mary Mother of God is a family-friendly story that reaches beyond Christianity.
"While I hope the book will inspire others to get more involved in the church, I think many people can relate to the challenges Mary faced," Reddington said.
Mary Mother of God
By Paul Reddington
ISBN: 978-1-4969-4656-0
Available in hardcover
Available on Amazon, Barnes & Noble and AuthorHouse
About the author
Paul Reddington is 85 years old. He served in the United States Navy from 1946-1948. While stationed in the Marianas and the Marshall Islands, he performed tests on the A-bomb, known as "Operation Crossroads." Reddington enjoys writing short stories and poems, and is a devout member of his parish, Holy Family Church, in Newark.
# # #
**FOR IMMEDIATE RELEASE**
For review copies or interview requests, contact:
Jennifer Uebelhack
317.602.7137
juebelhack(at)bohlsengroup(dot)com