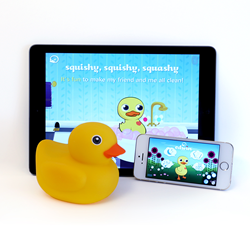 Las Vegas, Nevada (PRWEB) January 05, 2015
The rubber duck is perhaps the most iconic toy in the world. It is universally loved by all generations. pi lab, a company comprised of inventors specializing in intelligent product and application creation, is pleased to announce it is launching the simple rubber duck into the 21st century with Edwin® the Duck and the Edwin the Duck App, showcasing the all-new, sure-to-be child's best friend in the Family & Technology exhibit at the 2015 International Consumer Electronics Show January 6-9 in Las Vegas (Sands, Booth 74839). Edwin, along with the app, leverages the everyday activities of story time, sleepy time, play time and bath time to create extraordinary learning and growing experiences.
Edwin the Duck is made of upgradable firmware and is a CPSC (Consumer Product Safety Commission) certified sophisticated piece of technology. He is equipped with a rechargeable lithium ion battery, LED light, Bluetooth® and BTLE wireless connectivity, waterproof speaker and thermometer. Edwin also comes with a charging nest to place him in during bedtime and has a battery life of up to 8 hours.
The Edwin App, compatible with iOS, Android, and Windows devices, is key to bringing Edwin's world to life. pi lab works with world-renowned educators, musicians and cognitive specialists to make sure each child gets the most rewarding experiences. The Edwin App is comprised of four key areas: Story Time, Sleepy Time, Play Time and Bath Time.
Story Time
Story Time includes original animated adventure stories that bring important childhood lessons to life, emphasizing self-confidence, good decision-making, health, and other important topics. Edwin the toy will engage with families as they read each story, quacking and lighting up with animated-Edwin's adventures.
Sleepy Time
Edwin and the Edwin App create a completely unique and customizable bedtime experience for each child. Edwin's LED light can change to almost any color a child can dream of, adjustable inside the app. Edwin's lullabies are exclusively developed for his special friends. For a completely restful night's sleep, Edwin's white noise machine can help block outside noise.
Play Time
What truly sets Edwin apart from other interactive toys is his ability to play. Edwin can play everyone's favorite childhood games like Hide and Seek and many more, creating hours of indoor and outdoor fun. Along with the basics of letters, numbers, shapes and colors, his library of educational content will grow to include many more modules for children of all ages, cultures, and skill levels.
Bath Time
Bath Time becomes a lot more fun with Edwin in the tub. Edwin will make sure the water is just the right temperature with his onboard thermometer. Families can rock out to their favorite Edwin Bath Time tunes, or choose songs from their own playlist to stream directly to Edwin.
"As your child grows from newborn to infant and then toddler, they need new toys and activities to foster and continue the development and growth process," said Don Inmon, co-creator. "Edwin was founded in the idea that a 21st century toy should offer infinite experiences. "
Inmon will speak on the Meet the Digital Inventors Panel at the Kids@Play and Family Tech Summit on Wednesday, January 7 (Venetian, Level 2, Bellini 2106). To learn more about the conference, visit familytechsummit.com.
Edwin is a BPA-free children's toy and will retail for $99.99 when he is released in Q2 of 2015 at major electronics stores across the country. The Edwin App will be available for download on Windows, iOS, and Android devices upon launch. For more information, visit http://www.Edwintheduck.com.