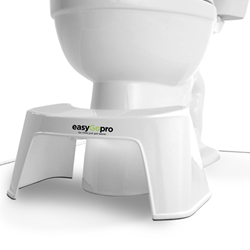 Amazon does the shopping for the consumer and the marketing for the seller- It's a win win."
El Segundo, CA (PRWEB) February 05, 2015
Consumer demand is at an all time high for easyGOpro – Go Time Just Got Easier ®, a simple solution for modern day ailments caused by sitting at a 90-degree angle on a Western Toilet. As ergonomically correct bathroom posture emerges as a popular health and wellness category, consumers are actively seeking out more options to improve elimination problems.
After having decent sales on the brand's e-commerce website, Wendi Cooper, Founder and CEO of EGPRO, LLC decided to launch easyGopro on Amazon.com. This gave her the opportunity to go head- to-head with competitors such as Squatty Potty, allowing Amazon shoppers to clearly distinguish easyGopro as the toilet stool with a unique and compact ergonomic design. Undeterred by their competition's publicity, easyGopro sales have skyrocketed since Squatty Potty's short appearance on Shark Tank in November of 2014 and have remained vibrant.
Wendi Cooper says, "We don't wait for the shopper to find us. Amazon's algorithms are hyper-targeted. We still have our website, catalog placement, and we run TV ads, but 95% of our sales are on Amazon."
According to EGPRO, LLC, the creators of easyGopro – Go Time Just Got Easier ® Ergonomic Toilet Stool, its rapid growth is largely due to their utilization of Amazon's Sponsored Ads, Fulfillment by Amazon (FBA), and eligibility to ship to PRIME customers. Amazon's marketing muscle, ease of shopping, and consumer confidence is beyond the scope of what an independent e-commerce site could hope emulate.
With sales hitting just under $200,000 in just 3 months, Amazon.com has proven to be an invaluable retail partner for new start-up companies like EGPRO, LLC. Cooper hopes that EGRPRO's Q4 earnings give hope to new entrepreneurs, and helps restore faith in the American Dream for small business owners.
About EGPro, LLC
EGPro, LLC is a woman owned and operated business founded in September of 2013. A health and wellness innovations company, it's mission is to solve everyday problems that affect our well-being and comfort through the development and design of affordable, high-quality, and aesthetically pleasing home solutions.