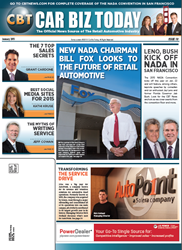 Atlanta, Ga. (PRWEB) January 05, 2015
Bill Fox, who represents New York's franchised new-car dealer on the NADA board of directors, will be sworn in as the organization's chairman at this month's convention and expo in San Francisco. Car Biz Today asked Fox about his background in the industry, the organization's goals and objectives for 2015 and what auto dealers can expect this year.
"There are great economic benefits to having local businesses create well-paying jobs to sell, finance and service cars," he said in discussing NADA's push to preserve the franchised dealership system. To read the full article, visit CBTNews.com.