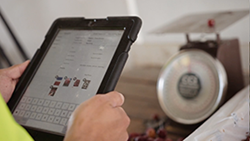 This AgTech program has the potential to bring some incredible energy and disruptive innovation to one of the world's most important industries.
Fresno, CA (PRWEB) January 06, 2015
Lotpath, a leading provider of software apps to the fresh produce industry today announced they were selected as a finalist for the Thrive Accelerator program. Lotpath was selected from a field of more than forty AgTech companies from Peru, Israel, Switzerland, Panama, France, UK, Ireland, and from across the United States. The competing AgTech companies pitched their teams, technology and visions at the Thrive Accelerator Program Seed Camp in San Jose, California, on December 11, 2014. Each pitch was judged by a group of tech and agriculture industry experts from the likes of Forbes, Taylor Farms, Western Growers Association, Smith Group, and Verizon. The Thrive Accelerator Program is sponsored by Forbes and SVG Partners in conjunction with Forbes' Reinventing America initiative, which will culminate in the Forbes sponsored AgTech Summit in Salinas, California, in July 2015.
"We were all extremely impressed with the quality and ingenuity of all the solutions presented during the Seed Camp," said Bruce Taylor, CEO of Taylor Farms and a Thrive Accelerator Mentor. "Selecting just 10 of these companies to move on to participate in the full Accelerator was an incredible challenge." "This is AgTech's moment," said John Hartnett, CEO of SVG Partners. "This Accelerator has the potential to bring some incredible energy and disruptive innovation to one of the world's most important industries."
"I was really impressed with the quality of the people who were pitching their product and business ideas at the Thrive Accelerator Seed Camp," said Mike Dodson, CEO of Lotpath. "We met AgTech people from all over the world and saw some very innovative ideas that will revolutionize agriculture in the coming years. It is really humbling to be selected as one of the ten finalists. I look forward to working with the other AgTech companies and the Thrive Accelerator Mentors in Salinas."
Lotpath Quality is the industry leading fresh produce inspection software app. With more than 700,000 produce inspections and photos, Lotpath Quality has proven to be a valuable tool for produce companies to monitor product quality as it flows through the supply chain. Lotpath is developing additional software apps for the fresh produce industry and will use the Thrive Accelerator Program to aid in design and testing of their software apps in cooperation with Salinas produce companies.
To learn more about Lotpath products and services, visit http://lotpath.com
The Lotpath Inspector iPad app is available on the Apple App Store: http://lotpath.com/products/inspector/ios
About Lotpath
Founded in 2007, Lotpath is a leading provider of software products and services for the fresh produce industry. Lotpath is headquartered in Fresno, California, the epicenter of the most productive food region in the world.
Contact Information
Mike Dodson
Lotpath, Inc.
http://lotpath.com
1.877.LOTPATH
About SVG Partners
Silicon Valley Global Partners (SVG Partners) is an investment and advisory firm that partners with public and private organizations on strategy, innovation, and global expansion.