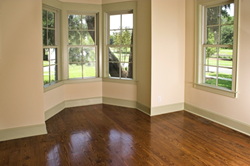 Homeowners should consider the amount of traffic and wear and tear the area will endure.
Chicago, IL (PRWEB) January 02, 2015
The Federal Savings Bank, a Midwest based lender, knows that when its clients move into new homes, they may face tough decorating choices such as whether to keep or change their flooring. There are numerous flooring options available in a range of prices, and homeowners may not know all of the benefits or disadvantages of each.
The follow are a few things to consider when choosing flooring:
Think about the style of the home
The location and architectural and interior styles may influence homeowners' flooring decisions. An old Victorian may beg for hardwood floors because carpet would feel too modern, while a Spanish style may be best accented with tile throughout the living areas. Homeowners who aren't sure about which flooring best fits the style of their homes can do a little bit of research to learn the flooring options that were popular when the home was built.
Consider the individual spaces in the home
The best type of flooring for a home will change depending on the room. What works best in a family room won't necessarily be the smartest decision for the kitchen. Homeowners should consider the amount of traffic and wear and tear the area will endure. Additionally, homes that are chilly or noisy may benefit from carpet, which can be warm and absorb some sound.
For example, kitchen floors need to be durable and stain resistant. Linoleum and ceramic tiles are both common and good options for kitchens. Some homeowners may be surprised to learn hardwood or laminate floors can also be an option for their kitchens. They just need to make sure these flooring choices have a good protective finish to avoid moisture warping the boards.
Contemplate longevity
Not every flooring style will last the same length of time. Hardwood floors can last decades and need only repolishing every once in a while. Carpet rarely lasts more than 10 years depending on the stains or wear and tear. If the owner expects to have many children and pets, tile, hardwood or laminate flooring may be a better option than carpet, which is likely to attract stains.
Examine unconventional options
Wood, laminate, tile and carpet aren't homeowners' only flooring options. People can research unique materials like cork, leather or concrete. These materials can provide one-of-a-kind looks for homeowners who want to have a house unlike anyone else.
Some creative homeowners even have tiles on their floors made from pennies or bottle caps - though it can take a long time to collect enough for even a small bathroom.
First-time home buyers should contact The Federal Savings Bank, a veteran owned bank, to learn more about low-rate mortgages.