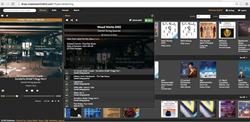 "The new platform makes a wide range of classical music available in state-of-art sound with a sophisticated seach capability that utilises the vast database of various classical music services".... Klaus Heymann, Naxos founder
Singapore (PRWEB) January 05, 2015
OraStream Private Limited, a Singapore-based company, announces the launch of its first white-label high-definition lossless audio classical music service for Naxos of America.
ClassicsOnlineHD*LL ("COLHD*LL") is available worldwide, for downloads and streaming of HD- and CD-lossless quality classical music. The service is accessible on personal computers running Windows and OS X operating systems, and on mobile smartphones and tablet computers with iOS and Android operating systems.
COLHD*LL (http://www.classicsonlinehd.com) offers a new, improved digital music experience. It enables music lovers to easily access an extensive library of classical music, in high-quality audio. It is the first consumer music service to stream lossless audio higher than 16-bit/44.1kHz quality. Using patented technology, HD- and CD-audio streaming occurs without delays in buffering large (lossless) audio files.
Naxos founder, Klaus Heymann says: "The new platform makes a wide range of classical music available in state-of-the-art sound with a sophisticated search capability that utilises the vast database of various classical music services."
About OraStream Private Limited
OraStream delivers high-quality audio streaming and download music services for mobile and web players with innovative technologies.
Unlike existing digital music platforms that depend on multiple audio encodes to deliver a gamut of services, OraStream uses a single lossless file. This eliminates storage of multiple audio profiles, which simplifies content management, removes technical complexities and improves audio delivery efficiency.
OraStream aims to support industry conversion to lossless audio music online, by delivering a better listening experience without raising current standard prices of services.
For more information, visit http://www.orastream.com or contact Frankie TAN at email: frankie(at)orastream(dot)com or telephone: +65 9137 8978.