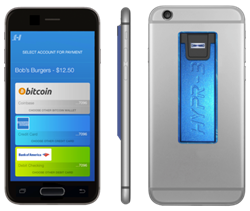 HYPR-3 functionality includes the ability to spend digital currencies such as bitcoin through automatic conversion.
New York, New York (PRWEB) January 05, 2015
HyprKey, the Silicon Alley fintech and cybersecurity startup, announced today that it will exhibit its patent-pending HYPR-3 biometric mobile wallet app at the 2015 International CES in Las Vegas.
The company's 20' x 20' custom booth is located at LVCC South Hall 1 – 22027, inside the show's first-ever Personal Privacy marketplace. Team executives will demo HYPR-3 bio-sticker and its fraud-proofing abilities by way of dynamic tokenization. Through in-person demonstration, the HYPR-3 team will interface with strategic partners, and take white-label orders during the CES regular show dates of January 6-9, 2015.
Said HYPR Corp. CEO George Avetisov:
"CES is one of the world's foremost opportunities to showcase HYPR-3 as there is a clear emphasis this year on cybersecurity, privacy and fraud-prevention. HYPR-3 is an open protocol for biometric authentication and as a team we've strived to be open in our unbiased conduct towards 3rd party wallets and payment platforms. Our presence at CES is only one example of our straightforward posture, but it is a pivotal one.
"As technology increasingly transforms commerce, the payments landscape is poised to benefit from security and efficiencies like the ones CES exhibitors offer. HYPR-3 is a biometric authentication platform we expect to gain prominence as a direct result of showcasing its functionality, which includes the ability to spend digital currencies such as bitcoin through auto-conversion. The capability of safeguarding user accounts like bankcards behind an impenetrable key goes beyond payments, and we expect significant interest from enterprise level partners. Visit us and demo HYPR-3 for yourself in the LVCC South Hall 1 – 22027."