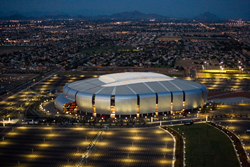 Ryan Ferguson deserves to go to the Super Bowl and we are elated to name him this year's winner of 'Get the Golden Ticket,'" says Ram Silverman.
Dallas, Texas (PRWEB) January 05, 2015
Ryan Ferguson was only 19 years-old when he was arrested in Missouri, accused of killing Columbia Tribune sports editor Ken Heiholt.
That was in 2004.
A man and even a janitor wrongfully placed Ferguson at the scene of the crime.
A year later Ferguson was handed a 40-year sentence and was shipped off to the Jefferson City Correctional Center - a maximum security penitentiary that houses some of the state's most violent, dangerous, and most notorious criminals.
Ryan Ferguson became #1137593 and was housed in a general population cell.
After 10 long years of being held in prison for a crime he did not commit, the man and the janitor came forward and admitted they had outright lied about their story of Ferguson and his involvement in the murder of Heiholt.
In November of last year Ferguson was released and named a free man by the courts.
Ferguson is grateful for the support from many citizens who staunchly campaigned for his release. The "Free Ryan Ferguson" movement garnered tremendous support and his quest for freedom was even featured on 48 Hours (CBS) and CNN.
And while he just celebrated his second Christmas out of jail, he admits the transition from being a prisoner to a citizen has not been an easy one.
However, a popular ticket company is helping him get back in the 'game,' so-to-speak.
Golden Tickets (http://www.goldentickets.com), a national ticket broker based out of Plano, Texas, has awarded him with two tickets to the upcoming Super Bowl on February 1, 2015, in Glendale, Arizona. Ferguson is also being awarded with airfare and hotel accommodations. Golden Tickets just unveiled its annual prize called "Get the Golden Ticket" and Ferguson is the program's first recipient.
Ram Silverman, co-founder and owner of Golden Tickets, says the annual program is devised to give a once in a lifetime sports package to someone they feel is deserving of something special.
"There is no ands, ifs, or butts about it; Ryan Ferguson deserves to go to the Super Bowl, and we are elated to name him this year's winner of 'Get the Golden Ticket,'" says Silverman. "The man spent 10 years in jail for a crime he did not commit, and we want to reach out and show our support and kindness to him. He endured everyone's worst nightmare – being wrongfully convicted – and sending him to the 'big game' is our generous way to put a smile on his face and help him move forward in life."
Ferguson says he is beyond elated to be heading to the game at the University of Phoenix Stadium.
He received the good news over the holiday season and will be taking his dad, Bill Ferguson, to the game with him.
"I was in a state of disbelief when I got the call from Golden Tickets," says Ferguson during an interview from his new home in Fort Myers, Florida.
"Right after I got the news that I won the tickets, I called my dad and said, 'pap, we are going to the game of all games – the Super Bowl,'" laughs Ferguson.
He adds, "I am so grateful for this opportunity and words just can't describe with how good I feel right now. The outreach and support from Golden Tickets is simply out of this world."
He has been researching and spending time learning more about football and the NFL. "I don't have a favorite team, but I do love sports and I absolutely love athletics… I have been keeping my eyes closely on Denver and Peyton Manning; I think Manning has a pretty good shot of winning it this year for the 'Bronco Boys,' but let's wait and see, you just never know what can happen in the playoffs."
Amazingly, Ferguson, now 30 years-old, is positive and upbeat. His enthusiasm is simply contagious. He lost 10 years of his life that he will never get back; however the tall, and well-fit-spoken man says his time in prison is in the past and he needs to move forward and remain strong.
"The real world and prison are two totally different places – it's all really hard to describe," he says. "Prison is a whole new way of life. I had to quickly get used to the language, the customs, the traditions, and how to fit in. I am so glad to be out. It was a struggle in there and each day was pure survival, but I found my place and got through it."
He didn't let the prison way of life get him down. He took a horrific experience and turned it into a positive on every level.
During his time behind bars he began working out rigorously each and every day, and even penned a book, Stronger, Faster, Smarter: A Guide to Your Most Powerful Body.
The book has just been published by Penguin (2014) and a dollar from each sale will go towards the Innocence Project – a national litigation and public policy organization dedicated to exonerating wrongfully convicted individuals.
Ferguson is now making fitness his life and career. He trains and coaches at Around the Clock Fitness in Fort Myers and also has his own Facebook Fan Page with hundreds of members: Ryan Ferguson Fitness.
While Ferguson is always upbeat, confident and carries a big smile everywhere he goes, he credits his father and girlfriend Myka Cain for having a truly positive difference in his life.
"My father was there from day one to support me when I was wrongfully convicted and so was Myka. They believed in me and knew I was totally innocent," says Ferguson.
"Both have helped me get back into the grove in the real world. Being locked up for 10 years meant no college and I never even sent a text, or posted a Facebook update or used a smartphone."
He adds, "And in just a matter of a few weeks I will get to go to the Super Bowl with my dad. It's a dream come true. This is a golden opportunity and one that I will never, ever forget for the rest of my life."
If you know a person who deserves the ultimate "Golden Ticket" please post their story at: http://www.facebook.com/GoldenTickets88