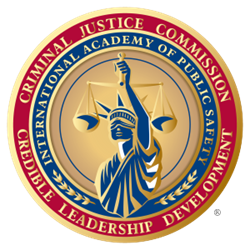 Every Officer is a Leader
Raleigh, NC (PRWEB) January 05, 2015
The International Academy of Public Safety ® (IAPS) is pleased to announce the launch of the Criminal Justice Commission for Credible Leadership Development ® (CJC-CLD).
The CJC-CLD certifies Law Enforcement Professionals who successfully complete the various Phases of Credible Leadership Development offered by IAPS.
This personalized internet-based learning experience is proven by a wide range of law enforcement agencies to increase professional competency and enhance public trust through self-awareness, cultural awareness, emotional intelligence, ethical-moral decision making and competency-based training in leadership skills which balance enforcement with compassion.
This training is designed by law enforcement professionals for law enforcement professionals.
Police Officers, Deputy Sheriffs and Criminal Justice Professionals can become Certified Credible Leaders and their agencies can qualify as Credible Leadership Organizations. These professional designations represent organizational and individual commitment to quality service and character-based performance.
The staff of the CJC-CLD proudly introduce our Commissioners who are nationally and internationally renowned for their accomplishments, experience and commitment to continuing excellence in criminal justice:
Dr. Anthony H. Normore; Dr. Bev Busson, Past President, RCMP; Commander Charles "Sid" Heal; Sheriff Greg Hamilton, Travis County Sheriff's Office, TX and Past President of FBI LEEDA; Dr. Timothy Turner; Dr. Angela Workman-Stark; Colonel Ted Spain, USA (Ret); Colonel Steven R. Watt; William J. Hayes; Chief Deputy Michelle Boyd, Minnehaha County Sheriff's Office, SD; Sheriff Ray Nash; and Timothy D. Valenti, Esq.
_________________________________
The International Academy of Public Safety, Inc. is a fully integrated technology and training company established by seasoned professionals to elevate Ethical Leadership, Human Capital, Compliance, Command, Control, Competence and Readiness within the Criminal Justice community.
We invite you to learn more about Credible Leadership by visiting: http://www.iapsinc.com
International Academy of Public Safety, Inc.
338 Raleigh Street / Holly Springs, NC 27540 / 919.753.1127