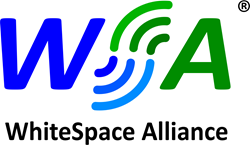 Chelmsford, MA (PRWEB) January 06, 2015
The WhiteSpace Alliance (WSA®), a globally recognized industry organization enabling sharing of underutilized spectrum, today announced release of its roadmap for spectrum sharing in India.
Developed in partnership with Indian Institute of Technology (IIT) Bombay, the plan describes how underutilized broadcast spectrum (whitespace) can be used to deliver reliable, cost-effective broadband Internet services to India's rural areas. The roadmap includes technical, regulatory and pilot program recommendations to support widespread deployment of solutions using shared spectrum techniques. The plan was introduced at CMAI Association of India - Communications Multimedia Applications and Infrastructure (CMAI ICT) World Communications Summit and Awards event on 11 December by Dr. Malcolm Johnson, Director (Deputy Secretary General elect), International Telecommunications Union Geneva.
"Release of the WhiteSpace Alliance plan is a significant step forward in realizing our national vision of Digital India," said Mr. N. K. Goyal, Chairman Emeritus, Telecom Equipment Manufacturers Association of India, and President, Association of India Communications Multimedia and Infrastructure. "We believe spectrum sharing holds great promise for broad delivery of Internet-based health, education and administrative services, as well as commercial opportunities."
Utilizing dormant TV band spectrum will complement and expand the value of India's investment in its National Optical Fiber Network (NOFN). Currently, NOFN can provide backhaul connectivity, but has limited ability to connect to access networks such as Wi-Fi access points. Whitespace solutions can provide multi-kilometer, middle-mile connections between access networks and the NOFN without expensive investments in line-of-sight infrastructure.
"IIT Bombay is conducting state of the art research on TV band whitespace and how it can provide solutions to meet the needs of Digital India. This roadmap paper is expected to provide guidelines to the regulators and industry alike," said Prof. Abhay Karandikar of IIT Bombay.  
"The Alliance is working actively with commercial, academic and government organizations to make spectrum sharing a reality in India," said Dr. Apurva N. Mody, Chairman of WhiteSpace Alliance. "We are confident that improved utilization of whitespace bands can be used to rapidly deploy broadband services throughout the country."
The full text of the WSA plan is available at http://www.whitespacealliance.org/WhitePapers.html.
WhiteSpace Alliance, developer of Wi-FAR™ and WSAConnect™ interoperability specifications, has a following of more than 200 major commercial, academic, government and regulatory organizations around the world. WSA member organizations benefit from access to technical specifications that decrease development costs; expanded access to global markets, regulators and government agencies; and ongoing marketing support at no additional cost. Consumers benefit from a multi-vendor, interoperable ecosystem that brings down the overall cost of broadband access. For more information on WhiteSpace Alliance, please visit http://www.WhiteSpaceAlliance.org
About WhiteSpace Alliance
The mission of the Whitespace Alliance (http://www.whitespacealliance.org/) is to promote the development, deployment and use of standards-based products and services as a means of providing broadband capabilities via WhiteSpace spectrum. By promoting the use of standards, the Alliance will enable companies to provide broadband connectivity at reasonable cost. The WSA will also act as an enabler of the emerging white spaces ecosystem by helping to put in place interoperability, conformance, and compliance testing to make sure that our member stakeholders get the needed information &collaborations to succeed both in the market place and with regulatory requirements. Interoperability specifications will allow multiple vendors to enter the market and help to reduce the costs for the consumers. WhiteSpace Alliance promotes the use of IEEE, 3GPP and IETF Standards for use in the WhiteSpaces.
WSA is a registered trademark of the WhiteSpace Alliance
Wi-FAR is a trademark of the WhiteSpace Alliance
WSAConnect is a trademark of the WhiteSpace Alliance