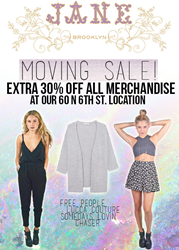 Jane Brooklyn better reflects who we are as a local boutique, and we are happy to be sharing this exciting news with our customers and neighbors
Brooklyn, NY (PRWEB) January 05, 2015
After 5 years in the Williamsburg neighborhood of Brooklyn, Jane's Closet is rebranding as "Jane Brooklyn". The new name is a tribute to the neighborhood where the brand truly blossomed, and where it continues to define its collection. In order to focus more on expanding janebrooklyn.com, the brand will also close its original pop-up store, but maintain its presence through its flagship store on Grand St.
"After operating a brick and mortar in a vibrant community like Williamsburg for over 5 years, I've noticed how much Jane's Closet is influenced by this neighborhood that we are proud to call our home. Jane Brooklyn better reflects who we are as a local boutique, and we are happy to be sharing this exciting news with our customers and neighbors," said Jane Rim, founder of Jane Brooklyn. "Closing the original pop-up store was a tough decision, but this will allow us to devote more resources to our newly branded website janebrooklyn.com. This great opportunity allows international customers to enjoy purchasing the fashion of Jane Brooklyn."
The pop-up store on 60 N 6th St. will have a closing sale beginning Jan 5th through the 25th.
Founded as an online boutique that blossomed into a full retail store in Williamsburg, Jane Brooklyn expanded to its new location on 135 Grand St., Brooklyn, NY 11211 in April 2011. Most of the collection can also be found online at janebrooklyn.com. For further information please feel free to contact us at 212-772-0712 or reach us via email at jane(at)janebrooklyn(dot)com.