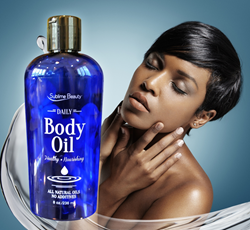 The Daily Body Oil was originally designed specifically for Skin Brushers, but has become more widely popular. It has no additives or chemicals for great well-being.
St. Petersburg, FL (PRWEB) January 06, 2015
Being aware of ingredients and their benefits and qualities is more and more important today. Sublime Beauty® offers a new 7 page report that outlines the qualities of each pure oil found in its Daily Body Oil.
The popular oil is a blend of five pure oils, each chosen carefully for their wellness qualities. Each compliments the other as well.
"We offer background and education on many of our products," says Kathy Heshelow, founder of Sublime Beauty®. "Knowledge is power and helps in decision-making. This particular report helps consumers understand what each oil can do for body and skin."
Those who opt-in for the 7 page report will also get a 25% Off Amazon coupon code for the Daily Body Oil.
The body oil was originally designed for the many Sublime Beauty® Skin Brushers but is becoming more widely used. Heshelow explains that many parts of the world favor oils over creams, and oils have been used through the centuries for powerful benefits. Oils are becoming accepted again in the U.S.
The free report and discount offer will be of limited time.
ABOUT: Sublime Beauty® is a quality skincare company that focuses on products to "Age Younger". Ingredients help to boost collagen, hydrate, relax wrinkles and improve skin. A niche includes healthy Skin Brushes. The company webstore offers free standard shipping and a VIP Club. Sign up for Secret Sales on the site. Products also available on Amazon.