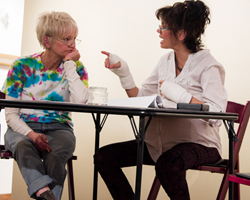 "...Every day the cast and I discover something new, exciting and most of all entertaining!" Janet Davidson, Director
Santa Fe, NM (PRWEB) January 06, 2015
The ForGiving Theater Ensemble opens their 2015 with a bang at the Santa Fe Playhouse with a full stage production of Pulitzer prize winning playwright David Lindsay-Abaire's "Kimberly Akimbo". The show was one many of the Ensemble's highly successful staged readings in 2014, performed in Casweck Galleries, then located in downtown Santa Fe. While the Gallery has moved on from the downtown area and space has once again become a challenge, ForGiving Productions forges ahead and responds to their audience's encouragement to mount Akimbo as a full stage production. The Santa Fe Playhouse stepped in and a co production was born. "Kimberly Akimbo" will bring its outrageous heartfelt hilarity to a wider audience beginning February 12th through March 1st. The original cast, Ann Roylance, Debrianna Mansini, Kelly Kiernan, Patrick Briggs and Jasper Keen will be performing, directed once again by Janet Davidson.
"Kimberly Akimbo" is a hilarious and heartrending piece about a teenager with a rare condition like progeria, causing her body to age faster than normal. Set in New Jersey, Kim and her family flee Secaucus under suspicious circumstances. Amidst her own deteriorating health, Kimberly must face her life with a hypochondriac, pregnant mother, an alcoholic father, a scam-artist aunt, and the possibility of first love. Says Davidson, " As a director, working with ANY of the plays Pulitzer Prize winner David Lindsay-Abaire has gifted to the world, is a joy. Whether it's a drama like our very successful run of "Good People" or this zany comedy "Kimberly Akimbo," every day the cast and I discover something new, exciting, and most of all entertaining. We are thrilled to share this journey with the new audiences at the Playhouse".
Davidson and the Ensemble have brought many highly acclaimed performances to audiences all over New Mexico and to Colorado. Their company began in 2012 when they opened their first show, Nora Ephron's "Love, Loss and What I Wore" at the Playhouse and brought down the house. And happily, they have not stopped since.
"Kimberly Akimbo" will open at the historic Santa Fe Playhouse:
DATES: February 12th - March 1st, 2015
TIMES: Thursday , Friday and Saturday evenings and Sunday matinees at 2pm
CONTACT: Tickets and information can be found on the Santa Fe Playhouse website
EMAIL: playhouse(at)santafeplayhouse(dot)org
CALL: 505.988.4262
LOCATION: 142 E. DeVargas St., Santa Fe, NM.