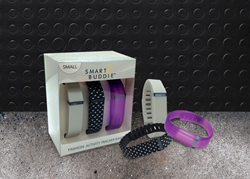 Smart Buddie transforms the fitness tracker into a bona fide fashion statement.
Brooklyn, NY (PRWEB) January 06, 2015
Millions of Americans have made health and fitness their resolution for 2015. Voguestrap, a leader in traditional and smartwatch accessories, will encourage Americans to actually keep their resolutions by introducing an innovative new line of fashion-forward accessories for today's popular activity trackers including Fitbit.
It is common knowledge that the fitness tracker category is experiencing explosive growth. Yet, after people buy their trackers, how can they be encouraged to actually wear their trackers more often? Fashion is the answer. Let's face it; Women (and men) want to look good, especially when around others. Yet, our research found that while the activity tracker category is growing due to high-tech innovation from the likes of Fitbit, Samsung, Jawbone and others, the tech wearables category is focused on the technology – and not necessarily on the fashion.
At this year's CES show, Voguestrap proudly introduces America's newest best bud, Smart Buddie. The Smart Buddie line features a stunning array of replacement bands in a multitude of colors, styles and designs. With a range of designs from Chevron to Camo to 2015's hottest new color of Marsala, Smart Buddie transforms the fitness tracker into a bona fide fashion statement.
In addition to replacement bands, the new Smart Buddie Smarties line features strikingly designed "nubs" that are easily placed along adjustment holes in smartwatch and fitness tracker bands. Available in various colors, styles and icons, Smarties adds a new element of fun and fashion, allowing owners of watches and fitness trackers to customize their tech pieces for a look that's all their own!
Smart Buddie and Smarties encourages Americans to keep their fitness resolutions by turning mundane trackers into beautiful fashion accessories. Available at Target, Best Buy, Meijer's and other fine retailers.
Voguestrap is a leading manufacturer of high quality replacement watchbands and accessories, eye-care products and several lines of innovative fashion bags. Voguestrap products can be found nationwide in dept. stores, mass merchandisers and other outlets. For sales and other information please contact: eliv@voguestrap.com