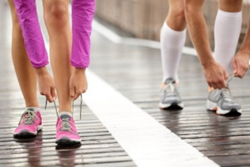 The type of shoe you choose is important, so that you do not experience foot pain in the future
Vancouver, BC (PRWEB) January 15, 2015
Vancouver chiropractors at Back in Action Wellness Center have recently published a blog teaching people how to choose proper fitting running shoes. During running, a lot of force is applied on the runners feet increasing the chances of pain and discomfort. However, good running shoes will absorb these shocks and make the exercise much more comfortable for the runner. The experienced and reliable chiropractors from Vancouver believe that runners can greatly increase the health of their feet by following the simple steps outlined in the blog at http://backsinaction.ca/blogs/how-to-buy-running-shoes/.
"When your foot hits the ground, there are ground forces that push back. Running shoes absorb shock when your feet hit the ground, and decrease these forces when your foot makes initial contact with the ground. The type of shoe you choose is important, so that you do not experience foot pain in the future!" states a company representative.
Some of the very simple steps outlined are:

Determine the type of foot one has
Check if one needs a custom foot orthotics
Use Dr. Lustig's recommended running shoe list to choose the right shoe
About Backs in Action
Backs in Action is a Vancouver Chiropractor that provides a wide range of services for its clients, which are all focused on helping to relieve pain and encourage a balanced and enjoyable life. The team at Backs in Action consists of passionate and committed individuals, who are all highly skilled in their areas of expertise. Backs in Action is located in Suite #203 at 1750 East 10th Avenue, in Vancouver, British Columbia. For more information call 604-876-9977 or visit the website http://backsinaction.ca.