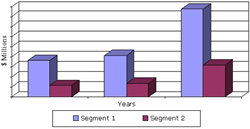 Global Market for RFID Technologies to Reach $24 Billion in 2019
Wellesley, Mass. (PRWEB) January 05, 2015
BCC Research (http://www.bccresearch.com) reveals in its new report on RFID (radio frequency identification) technologies that the global market reached a little over $11 billion in 2014. This market is predicted to reach $24 billion by 2019, registering a compound annual growth rate (CAGR) of 16.7% over the period of 2014 to 2019.
Unlike competing technologies such as bar code, magnetic strip, and proximity readers — which require a user to handle badges or cards in order to place it close to or in contact with the reader — RFID access control badges or cards allow authorized personnel hands-free access to designated spaces.
"RFID is often viewed as a competitor to bar coding," says BCC Research analyst Andrew McWilliams. "RFID and bar coding are different technologies and have different applications, which sometimes overlap."
North America covered the largest geographical market for RFID in 2013, with 37% of total sales, followed by Asia-Pacific at 28%. Asia-Pacific and other markets are anticipated to gain market share by 2019 while the percentage share of North America should decline to around 31%.
RFID: Technology, Applications, and Global Markets analyzes the size and dynamics of the global market for RFID products and applications. It also identifies and evaluates the impact of economic, business, demographic, technological, legal/regulatory, and other factors that will drive the future market for the new technology in this industry. Forecast analysis is provided for the period 2014 to 2019.
Editors and reporters who wish to speak with the analyst should contact Steven Cumming at steven.cumming(at)bccresearch(dot)com.
About BCC Research
BCC Research publishes market research reports that make organizations worldwide more profitable with intelligence that drives smart business decisions. These reports cover today's major industrial and technology sectors, including emerging markets. For more than 40 years we've helped customers identify new market opportunities with accurate and reliable data and insight, including market sizing, forecasting, industry overviews, and identification of significant trends and key market participants. We partner with analysts who are experts in specific areas of industry and technology, providing unbiased measurements and assessments of global markets. Recently selected as the world's greatest market research company, BCC Research is a unit of Eli Global, LLC. Visit our website at http://www.bccresearch.com. Contact us: (+1) 781-489-7301 (U.S. Eastern Time), or email information(at)bccresearch(dot)com.