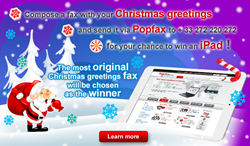 Valley Cottage, NY (PRWEB) January 07, 2015
Every year, Popfax delights its customers with a special promotional offer launched during the winter holidays. This year is no exception. Popfax is again offering its traditional promotion: an all-inclusive long-term subscription, at a 40% discount.
Moreover, this year, Popfax customers can take the chance to win an iPad simply by composing and sending a FAX with an original Christmas greeting to the fax number +33 272 220 272 using one of Popfax's many features: web fax, mail to fax, desktop fax applications or mobile fax apps.
The promotion will run for a very limited time only, so business owners interested in saving on their fax communication should react quickly and subscribe to the Special Offer available on http://www.popfax.com.
The contest is open for the duration of the seasonal promotion. The most original Christmas greetings fax will be chosen and the winner will be announced by email and on the social network pages of Popfax.
It has been quite a year for Popfax. In 2014, matching worldwide mobile trends and the move towards the paperless office, Popfax focused on improving its mobile fax applications and document management tools:

OCR - Optical Character Recognition - Popfax allows its customers to apply OCR for both received and sent faxes, so that they can manage, index and search fax documents from keywords.
In their account, Popfax customers can now edit and sign their received or sent faxes.
Mobile faxing application that allows users to scan, edit and sign faxes on the move, anytime and anywhere! Popfax developed its mobile fax apps for iOS, Android and Blackberry devices which can be downloaded for free from mobile fax app stores.
Being able to scan (take a picture), edit and sign a fax online is very convenient. Using a mobile device and a digitized signature means people don't have to print, sign and scan to take a document forward. Document management has never been so easy!
And, as it's the time for new year's resolutions, Popfax commits to keep improving every customer's experiences of its service in 2015, via all interfaces and all applications!